Click to Read an Excerpt on First Look.
Meanwhile, in Alabama, Dutchess struggles to keep Bonaparte, once a beacon of Black freedom and self-determination, in the hands of its last five Black residents—families whose lives have been rooted in this stretch of land for generations—and away from rapidly encroaching white developers. She fights against the erasure of Bonaparte's venerable history and the loss of the land itself, which she has so arduously preserved as Ava's inheritance.
---
As Ava becomes more enmeshed with Cass, Toussaint senses the danger simmering all around him—his well-intentioned but erratic mother; the intense, volatile figure of his father who drives his fledgling Philadelphia community toward ever increasing violence and instability. He begins to dream of Dutchess and Bonaparte, his home and birthright, if only he can find his way there.
---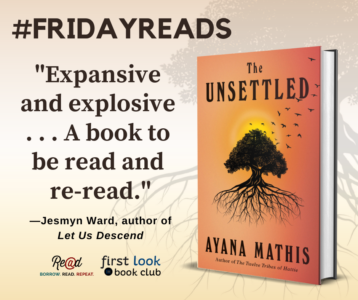 ---
Have you read this yet? Reading this right now? Share this image with the hashtag #FridayReads to spread the love!