Librarians & Audiobook Lovers,
We are thrilled to welcome you to the new & improved PenguinRandomHouseLibrary.com—which is also the new home for Books on Tape & Listening Library and all things audio for your libraries!
Penguin Random House Library Marketing is dedicated to serving you with this new one-stop destination where librarians can now discover (easily sort, and even add to a wish list!) ALL formats of our ever-growing list of titles. This includes product pages for the audiobook and large print editions. And we promise you will still enjoy the same type of audiobook content you loved over at booksontape.com right here—plus, much more!
PLEASE NOTE: CD & audio downloads appear on separate product pages rather than as a drop-down on same page. Be sure to click "Available Formats" to view what's available. See example below: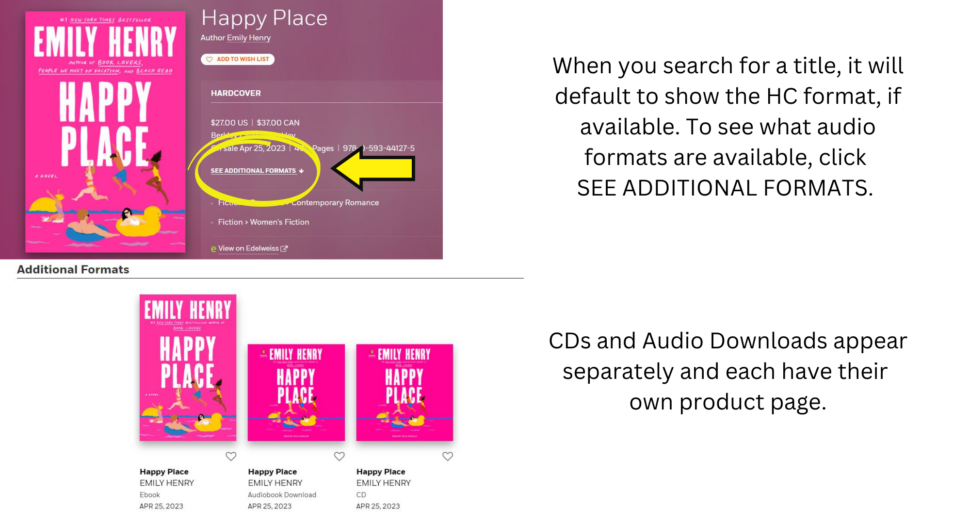 ---
Audiobooks are more popular than ever, and we are excited to continue to support your listener advisory needs! Here is just some of the audiobook content you will continue to find:
Audiobook landing pages for both Adults (BOT) and Kids & Teens (Listening Library)
Audiobook newsletter sign-up
Seasonal audiobook collections of every BOT/LL title releasing in Spring, Summer, and Fall
Collections such as LibraryReads Make Great Listens, Spanish Audiobooks, New Releases, and Coming Soon lists—in kids or adult groupings
Audiobook clips on every product page (as soon as the recorded excerpt becomes available)
Our popular BOT blog, now categorized as Audiobook News, continues to offer librarians a chance to "step into the studio" with exclusive narrator content, awards features, audio originals, and much more
---
IMPORTANT CHANGE TO NOTE:
CDs and Large Print can no longer be purchased on this site.
Even if you previously ordered via booksontape.com, Books on Tape and Listening Library (BOT/LL) online account access has migrated to the Penguin Random House Biz Self-Service portal (BIZ).
In order to purchase physical CDs and Large Print titles direct through Penguin Random House, you MUST create a BIZ account. This is the only way you can view previous orders and invoices.
If you are an organization that currently uses a BOT/LL login, you must register for a BIZ account using the information outlined in our FAQ. Accounts will NOT automatically be migrated to BIZ.
---
What else is new?
Audio appears right alongside the rest of PRH Library Marketing's rich content! No need to bookmark two separate sites, we aim to make discoverability and collection development easy.
More audio than ever before! Because the new PenguinRandomHouseLibrary.com shows librarians every title that is available in our catalog, our dynamic New Releases and Coming Soon collections may also include audiobooks from our client publishing partners when the audio format is available. You can see a list of our client publishers here.
---
By joining all of our library content and resources together, as well as our catalog pages and formats, we hope to help you meet the demand of your patrons who are likely now readers AND listeners in greater numbers than ever before.
BOT/Listening Library has been creating partnerships with libraries for decades. We are thrilled to continue that tradition alongside our greater Penguin Random House family, and will continue to do whatever we can to help librarians get the right book or audiobook in patrons' hands, in their digital devices, in their CD players, or whichever way they choose to consume great storytelling!
Thank you for visiting our new site!