Penguin Random House Library Marketing is headed to Chicago, IL! Join us for galley giveaways, book buzzes, author events, and stop by Booth #2814 during ALA Annual 2023!
For those of you unable to attend, follow along with us using #ALAAC23 on Twitter, Facebook, and Instagram!
---
JOIN US FOR OUR BOOK BUZZ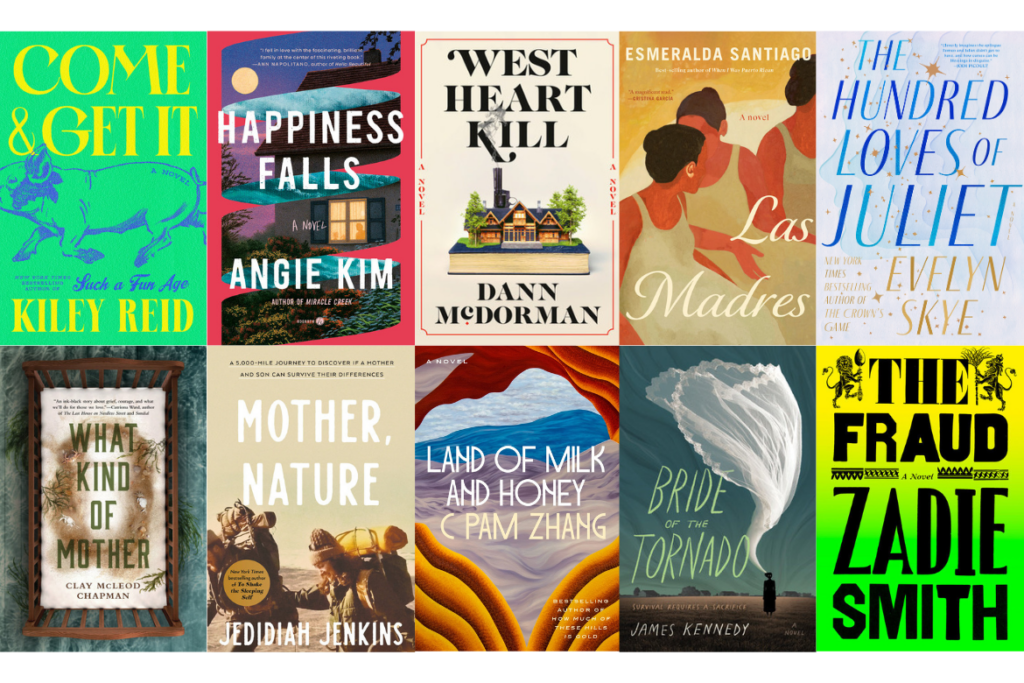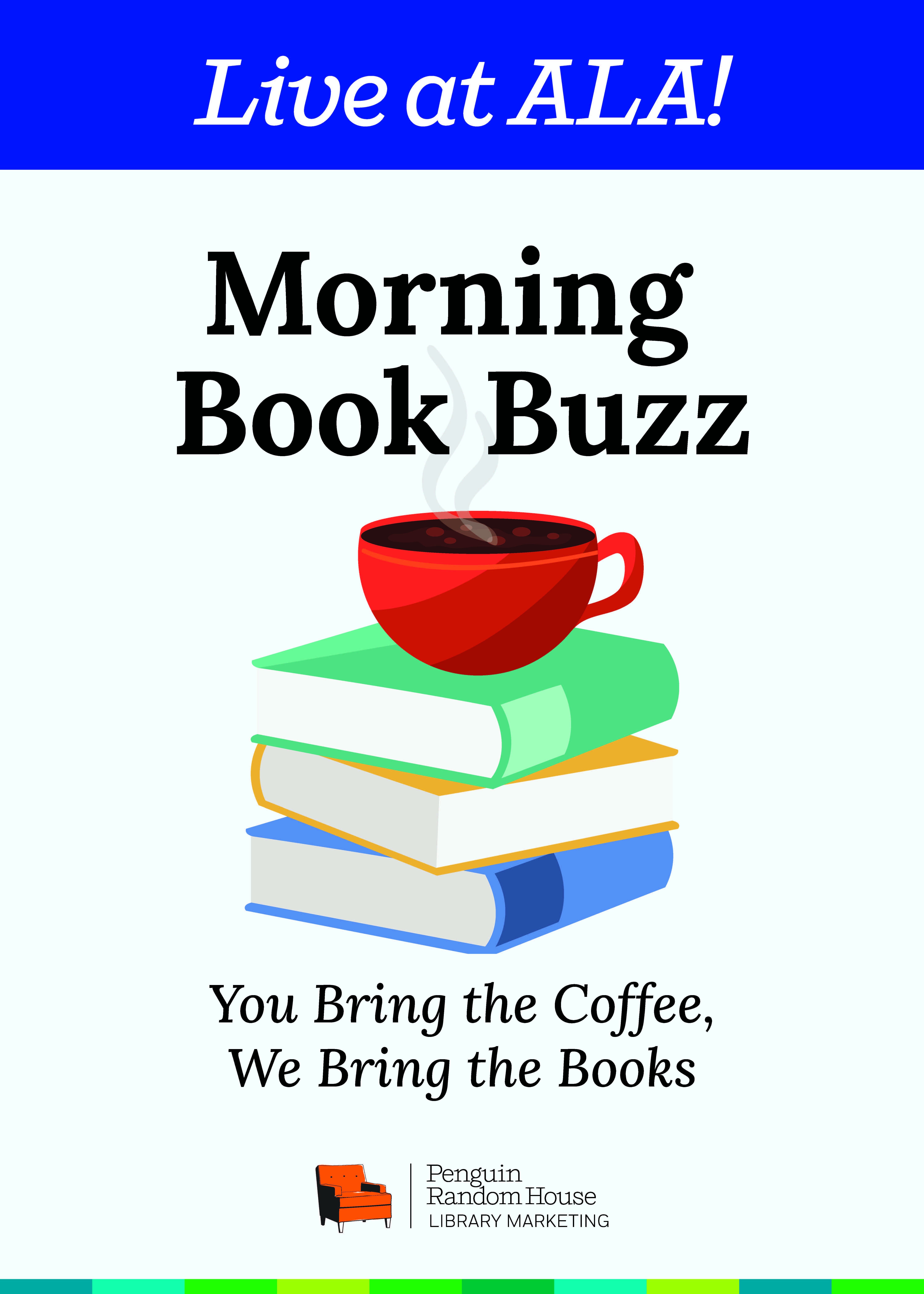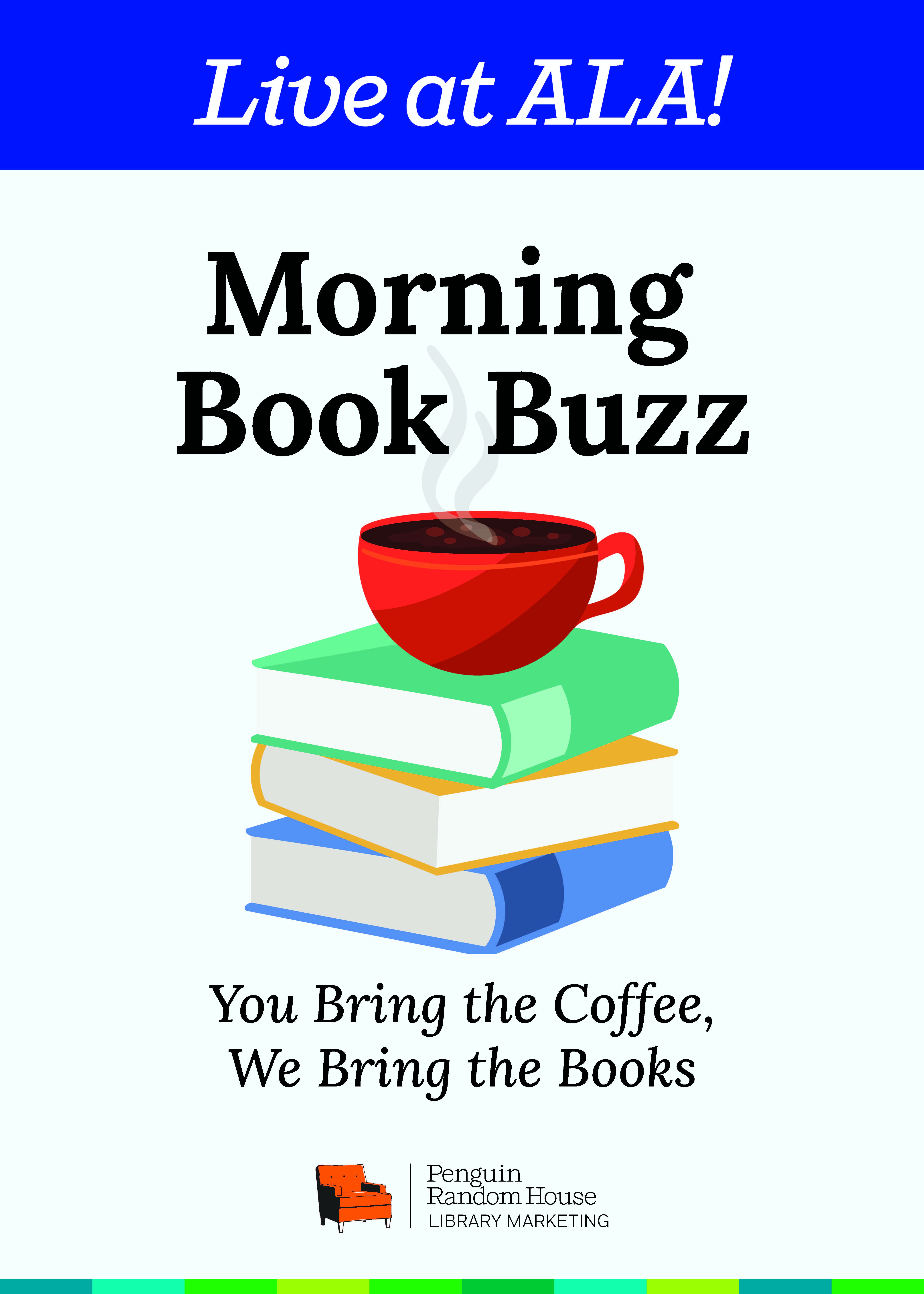 Join the Library Marketing Team to receive ARCs and a sneak peek of upcoming releases sure to drive your holds list. Attendees will receive ARCs, Tote Bags, and Swag. Refreshments will be served.
Sunday, June 25 • 11:30am – 12:30pm • Hyatt Regency McCormick, Hyde Park AB
Stick around for our Penguin Random House Publisher Services Small Press Book Buzz! Join for highlights, swag, and ARCS from some of our distribution partners Steerforth, Soho, Other Press, New York Review Books, and Disney!
Sunday, June 25 • 1:00 pm – 2:00 pm • Hyatt Regency McCormick,
Hyde Park AB
---
Join the Penguin Random House Gets Graphic Buzz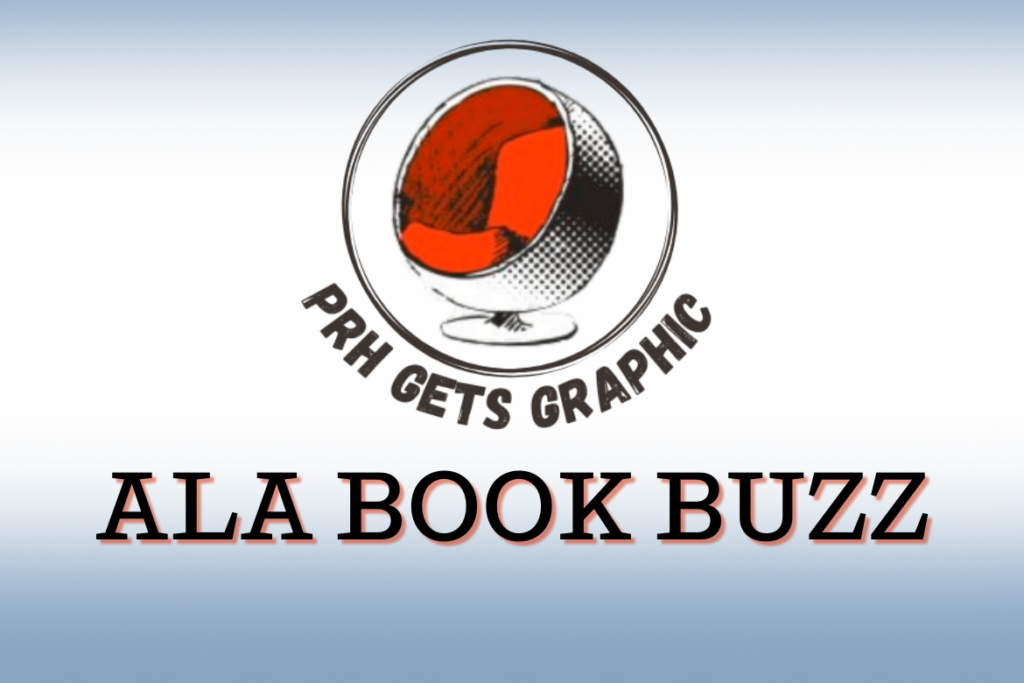 Penguin Random House Gets Graphic! Manga has never been bigger, and graphic novels are stronger than ever. Come hear about the inside scoop, the latest trends, and hottest titles about to hit the shelves from DC Comics, Dark Horse Comics, IDW, Titan Comics, Seven Seas, Kodansha, and more!
Saturday, June 24th • 1:45 pm – 2:30 pm • Exhibit Hall, Book Buzz Theater • Booth #5226
---
MEET THE AUTHORS

We have so many incredible authors attending ALA Annual this year, including Matthew Desmond, Mia P. Manansala, Ed Yong, Ayana Mathis, and more!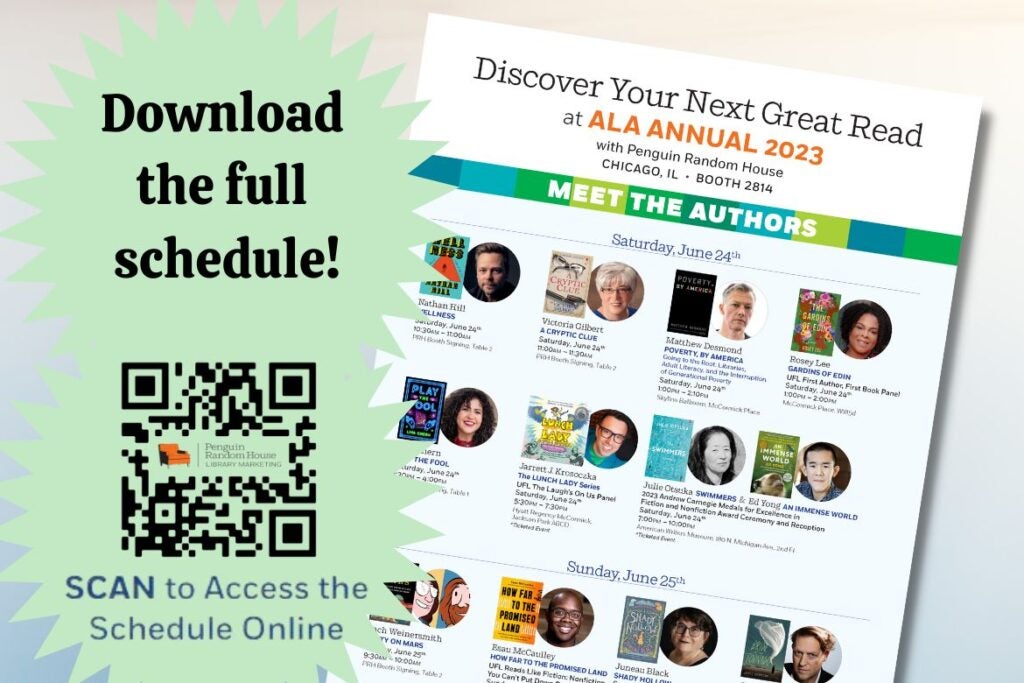 Keep track of our amazing author events and buzzes all in one place! Save or download the complete schedule of Penguin Random House Library events. Don't miss a beat and click here to keep a copy handy at all times, or view the complete schedule below.
---
Saturday, June 24
th
Kiley Reid
SUCH A FUN AGE
Saturday, June 24th
10:00 AM – 10:30 AM
Playaway Booth Signing, ALA Booth #5034
Nathan Hill
WELLNESS
Saturday, June 24th
10:30 AM – 11:00 AM
PRH Booth Signing, Table 2
Victoria Gilbert
A CRYPTIC CLUE
Saturday, June 24th
11:00 AM – 11:30 AM
PRH Booth Signing, Table 2
Matthew Desmond
POVERTY, BY AMERICA
Going to the Root: Libraries, Adult Literacy, and the Interruption of Generational Poverty
Saturday, June 24th
1:00 PM – 2:15 PM
Skyline Ballroom, McCormick Place 
Rosey Lee     
GARDINS OF EDIN
UFL First Author, First Book Panel
Saturday, June 24th 
1:00 PM – 2:00 PM
McCormick Place, W185d
Lina Chern
PLAY THE FOOL
Saturday, June 24th
3:30 PM – 4:00 PM
PRH Booth Signing, Table 1
Jarrett J. Krosoczka
The LUNCH LADY Series
UFL The Laugh's On Us Panel
Saturday, June 24th
5:30 PM — 7:30 PM
Hyatt Regency McCormick, Jackson Park ABCD
*Ticketed Event
Julie Otsuka
SWIMMERS
and
Ed Yong
AN IMMENSE WORLD
2023 Andrew Carnegie Medals for Excellence in Fiction and Nonfiction Award Ceremony and Reception
Saturday, June 24th
7:00 PM — 10:00 PM
American Writers Museum, 180 N. Michigan Ave., 2nd Fl
*Ticketed Event  
Sunday, June 25th
Zach Weinersmith
A CITY ON MARS
Sunday, June 25th
9:30 AM – 10:00 AM
PRH Booth Signing, Table 2 
Esau McCaulley
HOW FAR TO THE PROMISED LAND
UFL Reads Like Fiction: Nonfiction You Can't Put Down Panel
Sunday, June 25th
1:00 PM — 2:00 PM
McCormick Place, W187c  
Juneau Black
SHADY HOLLOW
Sunday, June 25th
2:00 PM – 2:30 PM
PRH Booth Signing, Table 1
James Kennedy
BRIDE OF THE TORNADO
UFL It's a Mystery to Me Panel
Sunday, June 25th
2:30 PM – 3:30 PM
McCormick Place, W185a  
Dann McDorman
WEST HEART KILL
Sunday, June 25th
3:00 PM – 3:30 PM
PRH Booth Signing, Table 2 
Mia P. Manansala
MURDER AND MAMON
Sunday, June 25th
3:30 PM – 4:00 PM
PRH Booth Signing, Table 2 
James Kennedy
BRIDE OF THE TORNADO
Sunday, June 25th
4:00 PM – 4:30 PM
PRH Booth Signing, Table 2  
Monday, June 26
th
C Pam Zhang
LAND OF MILK AND HONEY
ALMA & LibraryReads "Your Morning is Booked" Author Panel
Monday, June 26th
8:30 AM — 10:00 AM
McCormick Place, W175ab 
Maya Payne Smart
READING FOR OUR LIVES
Monday, June 26th
9:30 AM – 10:00 AM
PRH Booth Signing, Table 2 
Ayana Mathis
THE UNSETTLED
Monday, June 26th
10:30 AM – 11:00 AM
PRH Booth Signing, Table 2 
 Jarrett J. Krosoczka
The LUNCH LADY Series
Listen to Win: Hearing from Audiobook Winners and the Judges Who Select Them
Monday, June 26th
10:30 AM – 11:30 AM
McCormick Place, W184bc        
Ayana Mathis
THE UNSETTLED
and
Melanie Benjamin
CALIFORNIA GOLDEN
United for Libraries Gala Author Tea
Monday, June 26th
2:00 PM – 4:00 PM
Hyatt Regency McCormick, Grant Park ABCD
*Ticketed Event
Jarrett J. Krosoczka
The LUNCH LADY Series
The Odyssey Awards
Monday, June 26th
3:30 PM – 5:30 PM
McCormick Place, W190
---