Tony-nominated actor Rory O'Malley is busy ruling the stage these days at the Richard Rodgers Theatre as King George III in the Broadway smash-hit Hamilton. But he took off his crown and powdered-wig to step behind the mic and record an audiobook that is near and dear to his heart, David France's HOW TO SURVIVE A PLAGUE: The Inside Story of How Citizens and Science Tamed AIDS.
Listen in to hear Rory O'Malley speak about recording the audiobook, the importance of adding LGBTQ literature to all library and bookstore shelves, and why starting Broadway Impact was the most powerful experience he will ever have.
Read excerpts from the audio interview below:
All generations need to "understand how vital their fight was to the survival of not just gay men and women, but to humankind."
"Getting to work on HOW TO SURVIVE A PLAGUE was really important and meaningful to me…[As] a gay man of my generation, I think the history and the connection to the people who started Act Up, who started the Gay Men's Health Crisis here in New York City (the city that I love so much and where my dreams have come true)…I owe so much to them. I was able to fight for marriage equality.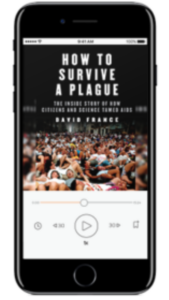 In my fight, it was about equal rights, about being able to love the person that you love and have the same rights. Their fight was to stay alive, and that fight had to be so desperate and excruciating in so many different ways. And to be able to voice this story…a story that I hope so many people—not just of the generation that lived through it but my generation and generations to come—listen to, study, and understand how vital their fight was to the survival of not just gay men and women, but to humankind."
On what "Read Proud Listen Proud" means to him…
"The phrase 'Read Proud Listen Proud' means a lot to me. I think that it was a journey for me to be proud of who I am and I think that [pride] came from listening to people who were proud, to reading of people who were proud to be themselves. It's hard to have self-confidence or pride in who you are if you don't see it emanating from another individual who looks or is like you…
It gives me so much pride to be a gay man, [to know] that I come from a community that fought so hard for its own survival. There are so many stories in the gay community that should be told to young gay people, and to people in every generation, to be proud of who we are, to listen to the stories and make sure that those stories are passed on to generations."
On his organization Broadway Impact, which mobilized the nationwide theatre community in support of marriage equality
"It was one of the most wonderful experiences of my life to help create Broadway Impact and it's made me a better artist, a better person—and to see the power of grassroots firsthand—it's the most powerful experience I'll ever have."