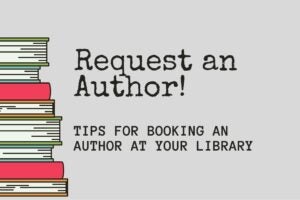 Interested in submitting an event proposal for a Penguin Random House author? We're here to help libraries navigate the process!
       Step 1:  Decide on a specific author(s)
Review seasonal lists of forthcoming or recently released books and determine who may be best for your audience or event. Edelweiss is an excellent resource!
It is recommended that you have an alternate or two in mind in the event that your first choice is unavailable.
Which books and authors circulate widely in your library? What is unique to your community? What are your book clubs reading?
       Step 2:   Planning & preparing an event proposal
Plan as far in advance as possible: (3-6 months is reasonable).
Is this a Virtual event or an in-person event?
Do you have a budget? Are you prepared for expenses such as travel, lodging, and meals?
Some authors work with lecture agents and require fees for events.
Buy the books. Who will handle book sales? Do you partner with a local bookstore?
Do you have examples of past author events hosted by your library? Will this be part of a series or is it meant to be a fundraiser for the library?
What is the format and structure of your event?
What is your anticipated attendance and who do you expect to be there?
What is your promotional plan? How will you build buzz and excitement for the event?
        Step 3: Submit your request
Fill out the request form and include as much information as possible. (Right now we're just taking requests for virtual events.)
Have questions?  Email us at library@penguinrandomhouse.com and we're happy to help!