Dear Librarians,
It's not much of a spoiler to share that the section in The Teachers titled, "Safe Harbor: The Most Underestimated Teacher in the Building" is about you. Beginning with the story of how a librarian played a pivotal role in the story of one of the "main characters" – real teachers – whom I followed for a school year, this section is my love letter to librarians. My hope is that it spreads awareness that you are highly skilled, trained, and certified professionals, that you are teachers in your own right, and that you are vital to communities and to schools. To quote from the book, "Librarians are magical not just because they open books but because they open worlds. They are information wizards who stand at the ready to escort students through portals via which they can find identity, connection, acceptance, escape, validation, passions, purpose, and peace."
During these alarmingly difficult times when libraries are under siege, I want you to know that I have your back, I will fight for #FReadom, and I will fight for you. Thank you for all that you do.
Alexandra Robbins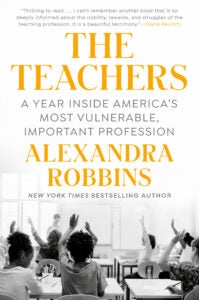 The Teachers: A Year Inside America's Most Vulnerable, Important Profession by Alexandra Robbins
A riveting, must-read, year-in-the-life account of three teachers, combined with reporting that reveals what's really going on behind school doors, by New York Times bestselling author and education expert Alexandra Robbins.
Learn more here.