Click to Read an Excerpt on First Look.
Listen to a Clip from the Audiobook.
View or Download the Book Club Kit on ISSUU.
Watch Disha Bose on Our Debuts to Note Panel.
---
---
Then Ciara is found murdered in her own pristine home, and the house of cards she'd worked so hard to build comes crumbling down. Everyone seems to have something to gain from Ciara's death, so if they don't want the blame, it may be the perfect time to air their enemies' dirty laundry.
---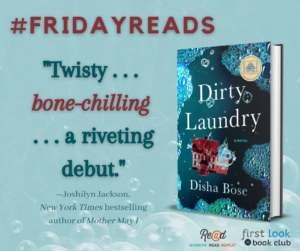 ---
Have you read this yet?  Reading this right now? Share this image with the hashtag #FridayReads to spread the love!
Sign Up for the First Look Book Club!
---