Dear Librarians:
My name is Elizabeth McKenzie, and I'd like to thank all of the librarians and libraries across the country who put my last novel, The Portable Veblen, on their shelves and recommended it to readers. With librarian Linus in Veblen and now with librarian Hugh in The Dog of the North, it seems that I cannot write a book without a librarian in it. Likely because I grew up in a librarian's household, which fostered in me a great love of reading, and of esteeming books themselves as objects of reverence. You may have heard me scream when I saw what iconic librarian Nancy Pearl posted recently on Twitter:
"I strongly suggest preordering @elmckenzie1's new novel The Dog of the North: I'm
reading it now & it's absolutely hypnotic: it's midnight and I just can't put it down."
In brief, The Dog of the North concerns Penny, a somewhat awkward woman in her 30s with a slight auditory processing disorder, who is trying to move on with her life after a failed marriage, but family obligations of epic proportions conspire to stand in the way. As Penny's problems in California mount, she soon realizes she has no choice but to face the disappearance of her parents in Australia five years before and will head into the outback of Queensland with her 92-year-old grandfather who also wants answers about his missing daughter.
There is mystery in this novel.
There are actual skeletons and an investigating detective.
There are imposters, an inappropriate doctor, a dramatic helicopter rescue, and a mad pursuit through an airport!
And through it all is a woman who somehow seems to misunderstand people even when they're trying to get close to her.
Thank you for your stewardship of all books, and I hope you'll enjoy this one as well!
-Elizabeth McKenzie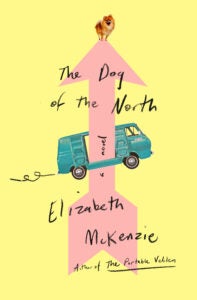 The Dog of the North: A Novel by Elizabeth McKenzie
Request on Edelweiss and NetGalley.
Learn more about the eBook here.
Learn more about the audiobook here.