Do you know those rooms, homes, and buildings that are so burned in your mind they become the background for your imagination? One of those settings for me is the Missoula Public Library, a two-story structure from the '70s, with a dark, cozy basement, and a long, indoor ramp paved with stones that I'd climb with my brother after school to the stacks upstairs. We would take the city bus across town and spend afternoons roaming around unchaperoned—the librarians never seemed to mind that my parents used the institution in lieu of childcare.
That library was a paradise—some days, I found a quiet corner and plowed through a YA novel; others, I took a choose-your-own-adventure through the microfiche, or followed my curiosity down the aisles, pulling down books at random and then taking them home. Long before the internet, I learned there are answers to almost every question in the card catalogue; that everything we collectively know can be accessed by a librarian; that authors can be knitted into a conversational web across time by the Dewey Decimal System.
This was a great awakening for me, followed by the realization of how many people had been left out of this conversation. According to the late professor Gerda Lerner, who created the first women's studies program in the U.S., historians know of fewer than 300 learned women in Western Europe from before 1700. Denied educations, sometimes cloistered, and typically kept from each other, women have only been able to talk to each other through writing and scholarship for a few centuries—and in some parts of the world, not at all. In the absence of our own voices, stories have been told to us about who we are and how we should behave. My book, On Our Best Behavior, is an exploration of those stories. I am interested in the way that tenets of "goodness"—created by a Judeo-Christian patriarchy—have lodged in in the minds of women without our awareness or permission. It's time for a truer story—not only one that includes us, but one that we tell about ourselves.
It's a great privilege to be alive in this moment, to stand on the shoulders of so many women, and to recognize how many are yet to come: These women who will take what we know now and spin it into new forms, expanding our understanding of who we are. Thank you for all you do—for guiding us through the halls of wisdom, and holding this web in your hands.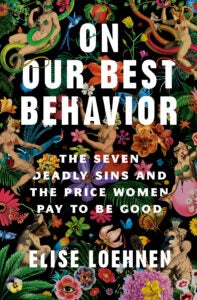 On Our Best Behavior: The Seven Deadly Sins and the Price Women Pay to Be Good by Elise Loehnen
A groundbreaking exploration of the ancient rules women unwittingly follow in order to be considered "good," revealing how the Seven Deadly Sins still control and distort our lives and illuminating a path toward a more balanced, spiritually complete way to live.
Request on Edelweiss and NetGalley.
Learn more about the eBook here.
Learn more about the audiobook here.