Dear Librarians of Myriad States and Places,
What an honor to send this letter to you!
A conversation with a librarian changed the nature of the novel I began writing four years ago. I was visiting the Allegheny Highlands of Appalachia, where I grew up. The librarian I met worked at the Cambria County Public Library, where I'd gone often as a child, and she told me about the job search program she now oversaw, and all the other forms of support–beyond books–her job entailed.
I graduated from high school before the closing of Bethlehem Steel. But even before the prolonged crisis of unemployment that followed, our small local library provided far more than just books and new knowledge. The library was where I found out who else in town was actively looking for more to read and think about. After running into a classmate and his mother there, I felt a new connection to him. I'd never have guessed that he was an avid reader.
That boy and I never talked about seeing each other at the library. But spotting each other there, in the fiction section, mattered. It was fortifying to know he craved novels and solitary reading hours just like I did, and fortifying, too, how often I was surprised at who I saw inside the library. Nobody used the word "community" in the nineties to describe the encounters that took place in the Cambria County Public Library. I talked about books with people I'd never have met otherwise in our rural stretch of western Pennsylvania.
It took writing several novels set elsewhere before I figured out what kind of novel I wanted to conjure about Appalachia. That conversation with the librarian in my hometown four years ago helped clarify the kinds of scenes I wanted to write in Take What You Need. I wanted to create conversations between two people in an Allegheny Mountain town who discover they share a curiosity and openness to art—conversations as brief yet exhilarating as the ones I remembered experiencing in the library.
Dear librarians of this fractured country, alongside the magic of having whole buildings of books available to anyone, I'm grateful for all the other forms of vital support and community-building that wouldn't happen without you. It's thrilling to have this opportunity to say hello and send my thanks.
With heartfelt gratitude,
Idra Novey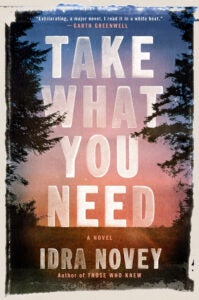 Take What You Need: A Novel by Idra Novey
From "one of the finest and bravest novelists at work today," (Vulture) award-winning writer Idra Novey has conjured a novel of "astonishing and singular" honesty (Rumaan Alam) with two determined, unforgettable female voices.
Request on Edelweiss and NetGalley.
Learn more about the eBook here.
Learn more about the audiobook here.