Dear librarian,
First let me say how grateful I am for your interest in my second novel, The Shadow of Perseus. As with my debut novel, Daughters of Sparta, one of the aims of my writing is to turn subjects which can feel lofty or esoteric into stories which are instead accessible and relatable on a very human level. They are stories which I hope will engage a wide breadth of readers, including those who know little to nothing about the traditional subject matter before turning the first page. My dream as an author is for as many people as possible to have the opportunity of accessing my books, and libraries are one of the key gateways in achieving that goal.
Libraries have played a valuable role in my own life. Some of my earliest childhood memories are of visiting our local library on Saturday mornings with my mum, and sitting on the floor enraptured by the "story time" session. At school, the library always felt like a cosy haven, filled with stories waiting to be discovered, a quiet corner to sit in peace, and staff who encouraged my love of books. I can't count the hours I spent there–before school, during break times, even after the school day had finished.
When I worked as an English tutor, I combed my local library to find something that would spark a joy of reading in my reluctant student. I'd bring him a different offering each week, until we found the thing he was excited to read. Libraries, both physical and digital, have been so important to my writing career too. I had no money to spend on research books when I set out to write my debut, and so I borrowed everything I needed from the university library.
Knowledge and stories are two of the things I treasure most and I love the idea that both can be found, free of charge, by anyone who wants to look for them. Libraries and their wonderful staff provide that possibility.
I am so pleased to be able to share The Shadow of Perseus with readers, and I hope that you will support me in sharing this story as widely as possible.
Yours faithfully,
Claire Heywood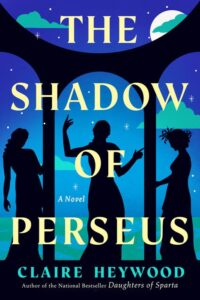 Request The Shadow of Perseus: A Novel on Edelweiss and NetGalley.