Click to Read an Excerpt on First Look.
Listen to a Clip from the Audiobook.
View or Download the Book Club Kit.
Watch Nicholas Sparks Introduce Dreamland.
---
---
While they are falling headlong in love, Beverly is on a heart-pounding journey of another kind. Fleeing an abusive husband with her six-year-old son, she is trying to piece together a life for them in a small town far off the beaten track. With money running out and danger seemingly around every corner, she makes a desperate decision that will rewrite everything she knows to be true.
---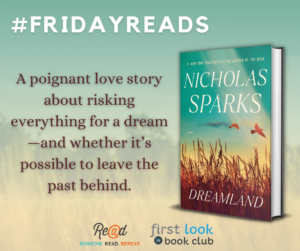 ---
Have you read this yet?  Reading this right now? Share this image with the hashtag #FridayReads to spread the love!
Sign Up for the First Look Book Club!
---