Click to Read an Excerpt on First Look.
Listen to a Clip from the Audiobook.
View or Download the Book Club Kit Here.
Watch LaToya Watkins on Our Debuts of Note Panel.
---
Bear it or perish yourself. Those are the words Helen Jean hears that fateteful night in her cousin's outhouse that change the trajectory of her life.
Spanning decades, Perish tracks the choices Helen Jean—the matriarch of the Turner family—makes and the way those choices have rippled across generations, from her children to her grandchildren and beyond.
---
Told in alternating chapters, Perish follows four members of the Turner family: Julie B., a woman who regrets her wasted youth and the time spent under Helen Jean's thumb; Alex, a police officer grappling with a dark and twisted past; Jan, a mother of two who yearns to go to school and leave Jerusalem, Texas, and all of its trauma behind for good; and Lydia, a woman whose marriage is falling apart because her body can't seem to stay pregnant, as they're called home to say goodbye to their mother and grandmother.
---
This family's "reunion" unearths long-kept secrets and forces each member to ask themselves  important questions about who is deserving of forgiveness and who bears the cross of blame.
---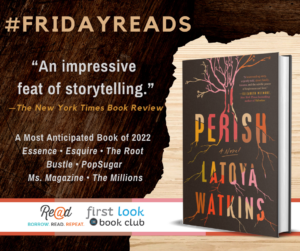 ---
Have you read this yet?  Reading this right now? Share this image with the hashtag #FridayReads to spread the love!
Sign Up for the First Look Book Club!
---