Click to Read an Excerpt on First Look.
Listen to a Clip from the Audiobook.
---
Twins Jeanie and Jamie King are inseparable. Stuck in a cabin in rural Washington with their alcoholic father, they cling to one another for safety and companionship. Until one night, when their father comes home covered in blood. The next day, he's gone . . . and so is Jamie. Jeanie's whole world is turned upside down. Not only has she lost her beloved brother, but with no family left in Washington, she is ripped from everything she knows, including Maddox, the boy she could be learning to love.
---
Twenty years later, Jeanie is in England. She keeps her demons at bay by drinking too much, sleeping with a married man, and speaking to a therapist she doesn't respect. But her old life catches up to her when Maddox reappears, claiming to have tracked down her dad. Stunned, Jeanie must decide whether to continue running from her past or to confront her father and finally find out what really happened that night, where her brother is, and why she was the one left behind.
---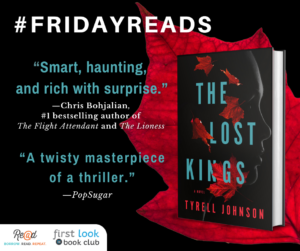 ---
Have you read this yet?  Reading this right now? Share this image with the hashtag #FridayReads to spread the love!
Sign Up for the First Look Book Club!
---