Dear Librarians,
You're the heroes of Mother Daughter Traitor Spy, my first stand-alone novel. Without you, it simply wouldn't exist.
Let me explain.
First, I wouldn't and couldn't have written a single book without librarians and without libraries. My hometown library—and one librarian in particular—nurtured my love of books and reading. I remember her putting a copy of Mrs. Miniver in my hands as a kid—and wonder if this is the moment when my choice of World War II subject matter for my novels was born.
And then there's research. Google's a good place to start, but it's only a start. Real research is done in libraries, with original documents, aided by librarians. 
While the idea for the novel was originally sparked by Steven J. Ross's non-fiction book, Hitler in Los Angeles: How Jews Foiled Nazi Plots Against Hollywood and America—I was struck by two peripheral characters, the real-life mother and daughter team of Sylvia and Grace Comfort, who infiltrated American Nazi groups in L.A. 
However, the two women were footnotes in Ross's book—and there was no additional information online or in other history books. But the California University at Northridge's library was a treasure trove for original documents about and even written by the Comforts. 
I worked closely with the librarians at CSUN to research Mother Daughter Traitor Spy using original documents. Because of Covid, I couldn't travel to the library and do research on person. But the library's staff helped me in every way possible. One valiant librarian in particular took countless pictures original documents from boxes and emailed them to me.
I'm not being overly dramatic when I say there literally would be no book without that librarian and those photographs. Yes, I created fictional characters based on the Comforts—but all the information, the facts, the bones of the story came straight from the CSUN library. That information, plus imagination, and lots of coffee, created Mother Daughter Traitor Spy.
So, I thank you. Thank you for your love of books, your passion for information, your willingness to share—and everything else you do that doesn't fit neatly under the description of a librarian.
I see you. I appreciate you. And Mother Daughter Traitor Spy wouldn't exist without you.
Warmly,
Susan
---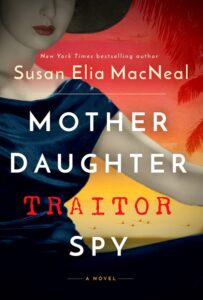 Request Mother Daughter Traitor Spy on Edelweiss and NetGalley.