Click to Read an Excerpt on First Look.
Listen to a Clip from the Audiobook.
---
Like many before her, Maria Lagana has come to Hollywood to outrun her past. Born in Rome, where every Sunday her father took her to the cinema instead of church, Maria immigrates with her mother to Los Angeles after a childhood transgression leads to her father's arrest.
---
Over the coming months, as the bright lights go dark across Los Angeles, Mercury Pictures becomes a nexus of European émigrés: modernist poets trying their luck as B-movie screenwriters, once-celebrated architects becoming scale-model miniaturists, and refugee actors finding work playing the very villains they fled. While the world descends into war, Maria rises through a maze of conflicting politics, divided loyalties, and jockeying ambitions. But when the arrival of a stranger from her father's past threatens Maria's carefully constructed facade, she must finally confront her father's fate—and her own.
---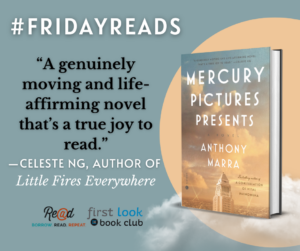 ---
Have you read this yet?  Reading this right now? Share this image with the hashtag #FridayReads to spread the love!
Sign Up for the First Look Book Club!
---