Click to Read an Excerpt on First Look.
Listen to a Clip from the Audiobook.
---
Carlota Moreau: A young woman growing up on a distant and luxuriant estate, safe from the conflict and strife of the Yucatán peninsula. The only daughter of a researcher who is either a genius or a madman.
Montgomery Laughton: A melancholic overseer with a tragic past and a propensity for alcohol. An outcast who assists Dr. Moreau with his experiments, which are financed by the Lizaldes, owners of magnificent haciendas and plentiful coffers.
---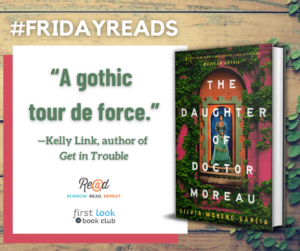 ---
Have you read this yet?  Reading this right now? Share this image with the hashtag #FridayReads to spread the love!
Sign Up for the First Look Book Club!
---