Click to Read an Excerpt on First Look.
Listen to a Clip from the Audiobook.
Watch Gabrielle Zevin on our Fiction of Connection Panel.
---
On a bitter-cold day, in the December of his junior year at Harvard, Sam Masur exits a subway car and sees, amid the hordes of people waiting on the platform, Sadie Green. He calls her name. For a moment, she pretends she hasn't heard him, but then, she turns, and a game begins: a legendary collaboration that will launch them to stardom.
---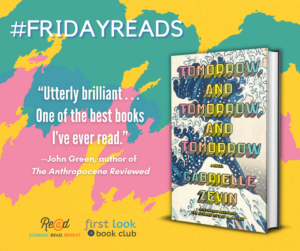 ---
Have you read this yet?  Reading this right now? Share this image with the hashtag #FridayReads to spread the love!
Sign Up for the First Look Book Club!
---