Click to Read an Excerpt on First Look.
Listen to a Clip from the Audiobook.
View or Download the Book Club Kit.
Watch Cecily Wong on Our Relationship Fiction Panel.
Read Cecily Wong's Letter to Librarians.
---
Everybody's heard of The Brightons.
From rags to riches, sleepy Oregon to haute New York, they are the biracial Chinese American family that built Kaleidoscope, a glittering, 'global bohemian' shopping empire sourcing luxury goods from around the world. Statuesque, design savant, and family pet—eldest daughter Morgan Brighton is most celebrated of all. Yet despite her favored status, both within the family and in the press, nobody loves her more than Riley.
---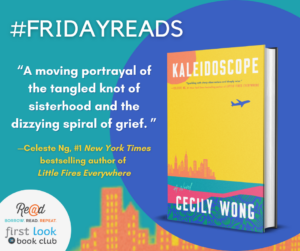 ---
Have you read this yet?  Reading this right now? Share this image with the hashtag #FridayReads to spread the love!
Sign Up for the First Look Book Club!
---