Dearest Librarians,
It was an intergalactic star cruiser. A massive feat of human engineering with impossibly tall ceilings promising a lifetime of adventures. Just by stepping inside, one was instantly transported to alien planets. My hometown library is etched into my brain as this otherworldly vessel, forever seen through the eyes of a four-year-old falling in love with stories. I can count myself incredibly fortunate that the library was my second home throughout my childhood. I was homeschooled, so it also served as my classroom. I preferred to sit in the adult section with the big tables, much too big for me, so I seemed like I knew what I was doing. That I belonged. And I did belong, completely and unquestionably. The librarians were stewards, fellow explorers there to lend a helping hand when needed, who left me to explore on my own when desired. When my mother was pregnant, my librarian helped me find the books that would explain in detail what was going on and assured me that my mother was not, in fact, going to die. Even though I was five years old, she knew that I wouldn't want the children's books with adorable stories of farm animals. Great for some children, but only a librarian—my librarian—would know that I needed something else.
I became a new mother myself at the start of the pandemic, and was devastated when I realized I wouldn't be able to take my baby to weekly story time: something that had been in my calendar since the second trimester. I thought my son wouldn't learn to love books like I had. That the librarians wouldn't come to know him and what stories he liked. Of course, like most new mothers, I didn't fully comprehend that there would be time, that life continues past that first year. I'm happy to say that my now two-year-old loves the library and, most endearing to me, he loves sitting at the big tables. It was at the library that I first dreamed of one day seeing my name among the thousands of books—one adventure amongst the many to be discovered. Now  that I'm actually having a novel published, seeing it in a library is what I'm looking forward to the most. Imagining someone aimlessly wandering the aisles, fingers tracing the rows of spines, only to land on my book. Then tipping it out, away from the others, and diving into the world I forged. Doing with my novel what I have done countless times with countless novels.
In today's world of book bans and living under a constant threat of information being restricted, everything that librarians and libraries do has become even more vital. These are the very themes I tackle in my novel, The Awoken. The future world I created, although beautiful and wonderful for some, has plunged into harsh inequities and deep-seeded bias because information is hoarded by those in power and access to learning is restricted for everyone else. Libraries stand in direct opposition to that. I can't thank you all enough for everything you do. For supporting my book as much as you have. And for fostering a love of learning in yet another generation. On your shoulders, you hold up a space for community to belong, for anyone to belong, including awkward homeschooled kids like me.
Thank you.
A Fellow Explorer,
Katelyn Monroe Howes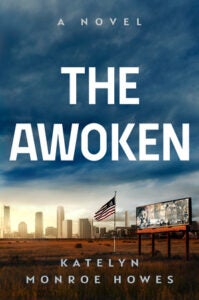 "The Awoken is a phenomenal story—filled with action, romance, plot twists, and a few big juicy reveals!" —Issa Rae
A cinematic, speculative debut about a woman who undergoes cryogenic preservation at the time of her death and wakes up a century later in a world where her very life is a crime.
Request The Awoken on Edelweiss and NetGalley.