Click to Read an Excerpt on First Look.
Listen to a Clip from the Audiobook.
---
Alex Green is a young girl in a world much like ours, except for its most seminal event: the Mass Dragoning of 1955, when hundreds of thousands of ordinary wives and mothers sprouted wings, scales, and talons; left a trail of fiery destruction in their path; and took to the skies. Was it their choice? What will become of those left behind? Why did Alex's beloved aunt Marla transform but her mother did not? Alex doesn't know. It's taboo to speak of.
---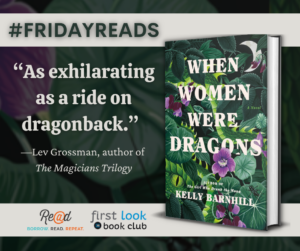 ---
Have you read this yet?  Reading this right now? Share this image with the hashtag #FridayReads to spread the love!
Sign Up for the First Look Book Club!
---