Click to Read an Excerpt on First Look.
Listen to a Clip from the Audiobook.
Watch Isabel Cañas on the Spring Book & Author Festival Horror Panel.
---
During the overthrow of the Mexican government, Beatriz's father was executed and her home destroyed. When handsome Don Rodolfo Solórzano proposes, Beatriz ignores the rumors surrounding his first wife's sudden demise, choosing instead to seize the security that his estate in the countryside provides. She will have her own home again, no matter the cost.
But Hacienda San Isidro is not the sanctuary she imagined.
---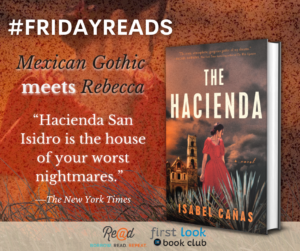 ---
Have you read this yet?  Reading this right now? Share this image with the hashtag #FridayReads to spread the love!
Sign Up for the First Look Book Club!
---