Click to Read an Excerpt on First Look.
Listen to a Clip from the Audiobook.
View or Download the Book Club Kit Here.
---
"You be me, and I'll be you," I whispered.

As children, Sam and Elli were two halves of a perfect whole: gorgeous identical twins whose parents sometimes couldn't even tell them apart. They fell asleep to the sound of each other's breath at night, holding hands in the dark. And once Hollywood discovered them, they became B-list child TV stars, often inhabiting the same role.
---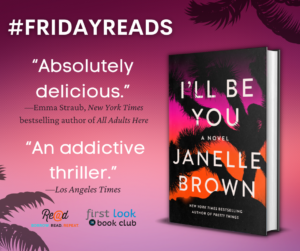 ---
Have you read this yet?  Reading this right now? Share this image with the hashtag #FridayReads to spread the love!
Sign Up for the First Look Book Club!
---