Click to Read an Excerpt on First Look.
Listen to a Clip from the Audiobook.
Watch Author Adriana Trigiani in Discussion with Lisa Scottoline.
View or Download the Book Club Kit Here.
---
Matelda, the Cabrelli family's matriarch, has always been brusque and opinionated. Now, as she faces the end of her life, she is determined to share a long-held secret with her family about her own mother's great love story: with her childhood friend, Silvio, and with dashing Scottish sea captain John Lawrie McVicars, the father Matelda never knew. . . .
---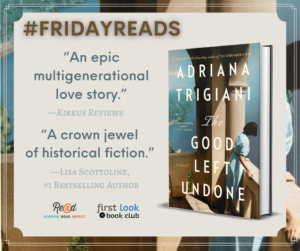 ---
Have you read this yet?  Reading this right now? Share this image with the hashtag #FridayReads to spread the love!
Sign Up for the First Look Book Club!
---