Click to Read an Excerpt on First Look.
Listen to a Clip from the Audiobook.
Read An Author Letter from Grace D. Li.
View or Download the Book Club Kit Here.
---
History is told by the conquerors. Across the Western world, museums display the spoils of war, of conquest, of colonialism: priceless pieces of art looted from other countries, kept even now.
Will Chen plans to steal them back.
---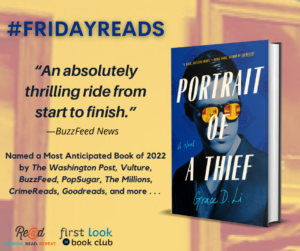 ---
Have you read this yet?  Reading this right now? Share this image with the hashtag #FridayReads to spread the love!
Sign Up for the First Look Book Club!
---