October is Emotional Wellness Month. Whether your patrons are in need of words of wisdom or self-help tips to get them through the day, we've put together a curated list of inspiring reads that focus on how to become the best version of you!
---
Self-Help & Personal Growth:
Fascinating patient stories and dynamic exercises help you connect to healing emotions, ease anxiety and depression, and discover your authentic self.
Sara suffered a debilitating fear of asserting herself. Spencer experienced crippling social anxiety. Bonnie was shut down, disconnected from her feelings. These patients all came to psychotherapist Hilary Jacobs Hendel seeking treatment for depression, but in fact none of them were chemically depressed. Rather, Jacobs Hendel found that they'd all experienced traumas in their youth that caused them to put up emotional defenses that masqueraded as symptoms of depression. Jacobs Hendel led these patients and others toward lives newly capable of joy and fulfillment through an empathic and effective therapeutic approach that draws on the latest science about the healing power of our emotions.
Whereas conventional therapy encourages patients to talk through past events that may trigger anxiety and depression, accelerated experiential dynamic psychotherapy (AEDP), the method practiced by Jacobs Hendel and pioneered by Diana Fosha, PhD, teaches us to identify the defenses and inhibitory emotions (shame, guilt, and anxiety) that block core emotions (anger, sadness, fear, disgust, joy, excitement, and sexual excitement). Fully experiencing core emotions allows us to enter an openhearted state where we are calm, curious, connected, compassionate, confident, courageous, and clear.
In It's Not Always Depression, Jacobs Hendel shares a unique and pragmatic tool called the Change Triangle—a guide to carry you from a place of disconnection back to your true self. In these pages, she teaches lay readers and helping professionals alike.
On Sale Now | Hardcover, eBook, and Audio Editions.
Click to Listen to a Clip from the Audiobook.
Click for Audiobook Information.
---
A thoughtful, eloquent meditation on bringing adventure and exploration into your daily life, from the author of Silence and Walking.
Erling Kagge is an explorer par excellence. He has accomplished things that most of us can't even imagine–for example: he's climbed Mount Everest and reached both the North and South Poles on foot. Yet in this slim, inspiring, lyrical book, he teaches us how to apply an explorer's mentality to our own daily lives. Simple things like getting up early and accepting failure can make a difference whether we are battling an arctic storm en route to the South Pole or stuck in traffic on our way to work. And larger lessons, like learning not to chase happiness and being receptive to goals, can benefit our lives enormously.
Punctuating these lessons with stories from his own life and travels, Kagge invites readers to treat life like an exploration and illuminates the possibilities that await us when we do.
On Sale November 17, 2020 | Hardcover, eBook, and Audio Editions.
Click to Request an eGalley on Edelweiss.
Click for Audiobook Information.
---
From the bestselling author of Help, Thanks, Wow comes an inspiring guide to restoring hope and joy in our lives.
In Dusk Night Dawn, Anne Lamott explores the tough questions that many of us grapple with. How can we recapture the confidence we once had as we stumble through the dark times that seem increasingly bleak? As bad news piles up—from climate crises to daily assaults on civility—how can we cope? Where, she asks, "do we start to our world and joy and hope and our faith in life itself back . . . with our sore feet, hearing loss, stiff fingers, poor digestion, stunned minds, broken hearts?"
Drawing from her own experiences, Lamott shows us the intimate and human ways we can adopt to move through life's dark places and toward the light of hope that still burns ahead for all of us. As she does in Help, Thanks, Wow and her other bestselling books, Lamott explores the thorny issues of life and faith by breaking them down into manageable, human-sized questions for readers to ponder, in the process showing us how we can amplify life's small moments of joy by staying open to love and connection. As Lamott notes in Dusk Night Dawn, "I got Medicare three days before I got hitched, which sounds like something an old person might do, which does not describe adorably ageless me."
Marrying for the first time with a grown son and a grandson, Lamott explains that finding happiness with a partner isn't a function of age or beauty but of outlook and perspective. Full of the honesty, humor, and humanity that have made Lamott beloved by millions of readers, Dusk Night Dawn is classic Anne Lamott—thoughtful and comic, warm and wise—and further proof that Lamott truly speaks to the better angels in all of us.
On Sale March 9, 2021 | Hardcover, Large Print, eBook, and Audio Editions.
Click to Request an eGalley on Edelweiss.
Click to Request an eGalley on NetGalley.
Click for Audiobook Information.
---
Bestselling author, life coach and sociologist Martha Beck explains why "integrity"—being in harmony with ourselves—is the key to a meaningful and joyful life.
In The Way of Integrity, Beck presents a four-stage process that anyone can use to find integrity, and with it, a sense of purpose, emotional healing, and a life free of mental suffering. Much of what plagues us—people pleasing, staying in stale relationships, negative habits—all point to what happens when we are out of touch with what truly makes us feel whole.
Inspired by The Divine Comedy, Beck uses Dante's classic hero's journey as a framework to break down the process of attaining personal integrity into small, manageable steps. She shows how to read our internal signals that lead us towards our true path, and to recognize what we actually yearn for versus what our culture sells us. With techniques tested on hundreds of her clients, Beck brings her expertise as a social scientist, life coach and human being to help readers to uncover what integrity looks like in their own lives. She takes us on a spiritual adventure that not only will change the direction of our lives, but bring us to a place of genuine happiness.
On Sale April 13, 2021 | Hardcover, Large Print, eBook, and Audio Editions.
Click for Audiobook Information.
---
An empowering guide to embracing your flaws, celebrating your individuality, knowing your self-worth and loving your body.
Nia was an in-demand international model and brand ambassador with a wonderful afro that landed her on the covers of magazines, billboards and international brand ads. Then, in 2018, surrounded by friends and family, she cut it off. It was a bold move, and the first step on her journey to self-love.
In this inspiring, illustrated book, Nia explores a range of emotions, from pain to joy, insecurity to confidence, to help you find your own individuality and power. The journaling activities give free rein to your inner queen to document your experiences of self-love, your flaws and life lessons. Nia shares her own path towards accepting her whole self – acne, stretch marks and all!
Are you ready to discover your light?
On Sale April 6, 2021 | Trade Paperback and eBook Editions.
---
Messages of Hope: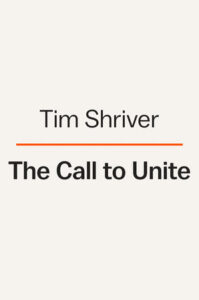 The Call to Unite by Tim Shriver
From some of our most prominent spiritual and religious leaders, inspirational thinkers, artists, musicians, and writers, a book of wisdom and solace to help us light our way out of dark times.
We live in troubled times. In 2020, our world was faced with its most serious challenge in a century–Covid-19–and chaos erupted. But despite this historic crisis, human beings responded with love. Across the globe, people sought to connect, whether in person from a socially distant six feet or via a screen from 10,000 miles away.
Into this moment, Tim Shriver saw an opportunity for those hungry for community to come together, to answer a call to unite. A call to heal, to hope, to rebuild. So he asked spiritual and religious leaders, artists, entertainers and others, to share messages of inspiration, transformation, and hope.
Featuring stories and insights from DeVon Franklin, Elizabeth Gilbert, Krista Tippett, Simon Sinek, Suze Orman, and Arianna Huffington among many others, The Call to Unite will offer readers a tangible book of wisdom to turn to in times of darkness. Here, readers will find calls to action, prayers, poems, spiritual teachings, and lessons to live by that will stand the test of time.
Those seeking expressions of affirmation, solace, and inspiration need only look to the pages within for guidance in finding the light amidst any crisis. We must embrace each other to amplify the strength, power, and grit intrinsic to the global community that unites us all. Only together can we be our best.
On Sale March 16, 2021 | Hardcover, eBook, and Audio Editions.
Click for Audiobook Information.
---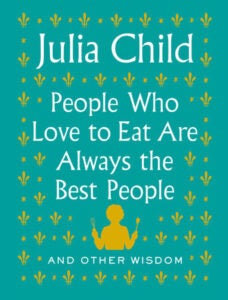 People Who Love to Eat Are Always the Best People by Julia Child
A charming, giftable collection of the beloved, bestselling author's inimitable quotes–her words of wisdom on love, life, and, of course, food.
"If you're afraid of butter, use cream." So decrees Julia Child, the legendary culinary authority and cookbook author who taught America how to cook–and how to eat. This delightful volume of quotations compiles some of Julia's most memorable lines on eating–"The only time to eat diet food is while you're waiting for the steak to cook"–on drinking, on life–"I think every woman should have a blowtorch"–on love, travel, France, and much more. Perfect for Julia fans, home cooks, and anyone who simply loves to eat and drink.
On Sale November 17, 2020 | Hardcover and eBook editions.
Click to Request an eGalley on NetGalley
---
Emotional Wellness for All Ages: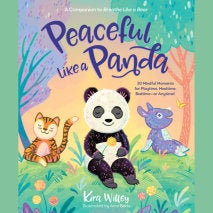 Peaceful Like a Panda: 30 Mindful Moments for Playtime, Mealtime, Bedtime-or Anytime! Written and Read by Kira Willey
From the author of Breathe Like a Bear comes a new collection of Mindful Moments!
These easy-to-follow exercises help kids calmly and mindfully navigate their day, from sunrise to sunset. With sections dedicated to key activities in a child's routine–waking up, traveling, learning, playing, eating, and bedtime–kids can learn techniques for managing their bodies, breath, and emotions anywhere, anytime.
Wake up bright and sunny, no matter the weather!
Explore the world around you during travel.
Boost your brain before learning.
Make the most of your imagination at playtime.
On Sale December 29, 2020 | Audio Download Edition.