Though the Urban Librarians Annual Conference may look different this year, we are so excited to be able to connect with you virtually!
---
 Visit Our ULCon Booth
The Penguin Random House Library Marketing booth features the most important books and audiobooks of the Fall 2020 season, all hand-selected for library staff.
We are unveiling our latest book club brochure, highlighting our digital resources, and providing collections of eGalleys to request, along with exclusive downloadables.
Click to visit our virtual booth.
---
The Job & Career collection features practical guides and motivational for library patrons who are entering the workforce for the first time or looking to change careers.
From intimate memoirs to social histories, these inspiring titles help spread awareness and celebrate disability culture.
Sample some of the must-have new fiction and nonfiction titles coming out this fall.
Featuring books on meditation, crafts, home organization and baking, our Cookbooks and Lifestyle collection inspire creativity and practice.
---
Book Club Resources
From literary fiction to thrillers to historical fiction to memoirs, our Book Club Picks, Diverse Voices Book Club Brochure, and Book Club Brochure Vol. 20 have the perfect titles to spark conversation and thoughtful discussion.
---
Libros en español
The latest libros en español include notable translations and works by Julia Alvarez, Ibram X. Kendi, Carolina De Robertis, among others.
---
Fall 2020 Debut Fiction Sampler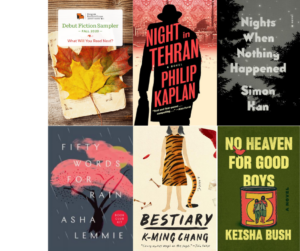 Discover and sample excerpts from some of the hottest new voices in fiction—from historical fiction to mysteries, women's fiction to sci-fi—with our Fall 2020 Debut Fiction Sampler, including No Heaven for Good Boys by Keisha Bush, Bestiary by K-Ming Chang, Nights When Nothing Happened by Simon Han; Night in Tehran by Phillip Kaplan; and Fifty Words for Rain by Asha Lemmie.
---
Additional Resources

Looking for your next listen? Check out some of the newest audiobook titles and add them to your playlist.
Other resources for Adult Librarians include Anti-Racist book recommendations and full-title lists of audiobooks and books in Spanish.
Subscribe to our weekly eNewsletter to discover the hottest upcoming books that will drive your holds lists and get access to exclusive giveaways, excerpt samplers, programming tips, and much more!