Politics can be tough to follow—and even tougher to talk about. Keep yourself in the know and up to date with this list of books that lets you read about politics any time.
---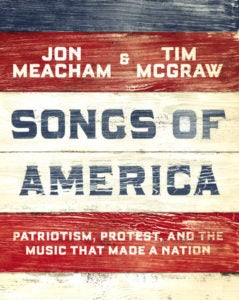 Songs of America: Patriotism, Protest, and the Music that Made a Nation by Jon Meacham and Tim McGraw
A celebration of American history through the music that helped to shape a nation, by Pulitzer Prize winner Jon Meacham and music superstar Tim McGraw
Through all the years of strife and triumph, America has been shaped not just by our elected leaders and our formal politics but also by our music—by the lyrics, performers, and instrumentals that have helped to carry us through the dark days and to celebrate the bright ones.
From "The Star-Spangled Banner" to "Born in the U.S.A.," Jon Meacham and Tim McGraw take readers on a moving and insightful journey through eras in American history and the songs and performers that inspired us. Meacham chronicles our history, exploring the stories behind the songs, and Tim McGraw reflects on them as an artist and performer. Their perspectives combine to create a unique view of the role music has played in uniting and shaping a nation.
Listen to a Clip from the Audio Book.
---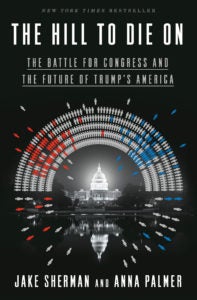 The Hill to Die On: The Battle for Congress and the Future of Trump's America by Jake Sherman and Anna Palmer
The inside story of Donald Trump's first two years in Washington as viewed from Capitol Hill, a startling account that turns "Congress into a Game of Thrones book" (Trevor Noah, The Daily Show).
Taking readers into secret strategy calls and closed-door meetings from the House to the White House, Politico Playbook writers Jake Sherman and Anna Palmer trace the gamesmanship and the impulsiveness, the dealmaking and the backstabbing, in a blow-by-blow account of the power struggle that roiled Congress.
Moving from the fights for advantage between Donald Trump, Nancy Pelosi, and Chuck Schumer; to Mitch McConnell's merciless, Machiavellian handling of the sexual assault accusations against Supreme Court nominee Brett Kavanaugh; to Paul Ryan's desperate, failed attempts to keep Mark Meadows from pushing Trump into a government shutdown over immigration, The Hill to Die On bristles with fresh news and tells the story of what really happened in some of the most defining moments our era.
Like The West Wing for Congress, or Shattered meets This Town, The Hill to Die On tells an unforgettable story of politics and power, where the stakes going forward are nothing less than the future of America and the lives of millions of ordinary Americans.
Listen to a Clip from the Audio Book.
---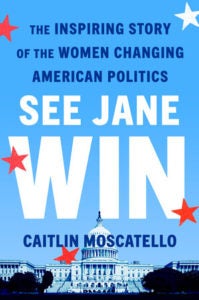 See Jane Win: The Inspiring Story of the Women Changing American Politics by Caitlin Moscatello
From an award-winning journalist covering gender and politics comes an inside look at the female candidates fighting back and winning elections in the crucial 2018 midterms.
 
After November 8, 2016, first came the sadness; then came the rage, the activism, and the protests; and finally, for thousands of women, the next step was to run for office—many of them for the first time. More women have been campaigning for local or national office over the past two years than at any other time in American history.
Journalist Caitlin Moscatello reported on this wave of female candidates for New York magazine's The Cut, Glamour, and Elle. And in See Jane Win, she further documents this pivotal time in women's history. Closely following four candidates throughout the entire process, from the decision to run through Election Day 2018, See Jane Win takes readers inside their exciting, winning campaigns and the sometimes thrilling, sometimes brutal realities of running for office while female.
---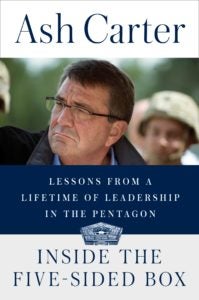 Inside the Five-Sided Box: Lessons from a Lifetime of Leadership in the Pentagon by Ash Carter
The twenty-fifth Secretary of Defense takes readers behind the scenes to reveal the inner workings of the Pentagon, its vital mission, and what it takes to lead it.
The Pentagon is the headquarters of the single largest institution in America: the Department of Defense. The D.O.D. employs millions of Americans. It owns and operates more real estate, and spends more money, than any other entity. It manages the world's largest and most complex information network and performs more R&D than Apple, Google, and Microsoft combined. Most important, the policies it carries out, in war and peace, impact the security and freedom of billions of people around the globe.
Yet to most Americans, the dealings of the D.O.D. are a mystery, and the Pentagon nothing more than an opaque five-sided box that they regard with a mixture of awe and suspicion.
In this new book, former Secretary of Defense Ash Carter demystifies the Pentagon and sheds light on all that happens inside one of the nation's most iconic, and most closely guarded, buildings. Drawn from Carter's thirty-six years of leadership experience in the D.O.D., this is the essential book for understanding the challenge of defending America in a dangerous world—and imparting a trove of incisive lessons that can guide leaders in any complex organization.
---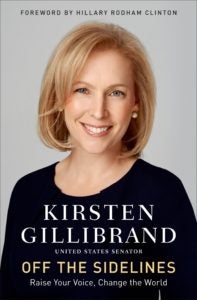 Off the Sidelines: Speak Up, Be Fearless, and Change Your World by Kirsten Gillibrand
United States Senator and 2020 Democratic presidential candidate Kirsten Gillibrand recounts her personal journey in public service and galvanizes women to make a meaningful difference in the world around them.
"One of the most helpful, readable, down-to-earth, and truly democratic books ever to come out of the halls of power."—Gloria Steinem
Off the Sidelines is a playbook for women who want to step up, whether in Congress or the boardroom or the local PTA. If women were fully represented in politics, Gillibrand says, national priorities would shift to issues that directly impact them: affordable daycare, paid family medical leave, and equal pay. Pulling back the curtain on Beltway politics, she speaks candidly about her legislative successes (securing federally funded medical care for 9/11 first responders, repealing Don't Ask, Don't Tell) and her crushing disappointments (failing by five votes to pass a bill protecting survivors of sexual assault in the military).
In Off the Sidelines, Gillibrand is the tough-love older sister and cheerleader every woman needs. She explains why "ambition" is not a dirty word, failure is a gift, listening is the most effective tool, and the debate over women "having it all" is absurd at best and demeaning at worst. In her sharp, honest, and refreshingly relatable voice, she dares us all to tap into our inner strength, find personal fulfillment, and speak up for what we believe in.
---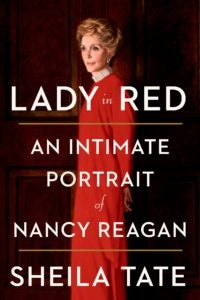 Lady in Red: An Intimate Portrait of Nancy Reagan by Sheila Tate
Lady in Red is the long-awaited collection of behind-the-scenes stories and iconic images of one of the most influential First Lady in modern history—Nancy Reagan.
Lovingly compiled by long-time close confidante and aide, Sheila Tate, the book provides a rare and much-anticipated look into the personal life of the president's wife, from her daily routines and travels as First Lady to her friendships and deep influence in the Reagan White House.
Lady in Red depicts a nuanced portrait of this graceful yet strong woman who felt it was her mission to restore a sense of grandeur, mystique, and excitement to the presidency, showcasing the various roles that Mrs. Reagan played during her years in the White House, that of Wife, Mother, Protector, Host, Diplomat, and Advisor, among others.
Listen to a Clip from the Audio Book.
---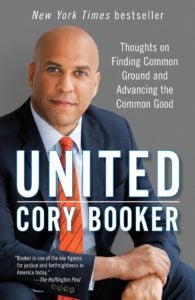 United: Thoughts on Finding Common Ground and Advancing the Common Good by Cory Booker
United States Senator and 2020 Democratic presidential candidate Cory Booker makes the case that the virtues of empathy, responsibility, and action must guide our nation toward a brighter future.

Raised in northern New Jersey, Cory Booker went to Stanford University on a football scholarship, accepted a Rhodes Scholarship to Oxford University, then studied at Yale Law School. Graduating from Yale, his options were limitless. He chose public service.
He chose to move to a rough neighborhood in Newark, New Jersey, where he worked as a tenants' rights lawyer before winning a seat on the City Council. In 2006, he was elected mayor, and for more than seven years he was the public face of an American city that had gone decades with too little positive national attention and investment. In 2013, Booker became the first African American elected to represent New Jersey in the U.S. Senate.
In United, Cory Booker draws on personal experience to issue a stirring call to reorient our nation and our politics around the principles of compassion and solidarity. He speaks of rising above despair to engage with hope, pursuing our shared mission, and embracing our common destiny.
Listen to a Clip from the Audio Book.
---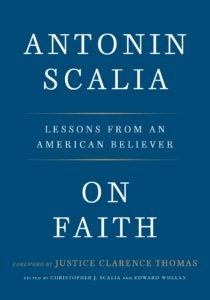 On Faith: Lessons from an American Believer by Antonin Scalia
An inspiring collection of the late Supreme Court justice Antonin Scalia's reflections on his own faith, on the challenges that religious believers face in modern America, and on the religious freedoms protected by the Constitution.
Antonin Scalia reflected deeply on matters of religion and shared his insights with many audiences over the course of his remarkable career. As a Supreme Court justice for three decades, he vigorously defended the American constitutional tradition of allowing religion a prominent place in the public square. As a man of faith, he recognized the special challenges of living a distinctively religious life in modern America, and he inspired other believers to meet those challenges.
This volume contains Justice Scalia's incisive thoughts on these matters, laced with his characteristic wit. It includes outstanding speeches featured in Scalia Speaks and also draws from his Supreme Court opinions and his articles. In addition to the introduction by Fr. Scalia, other highlights include Fr. Scalia's beautiful homily at his father's funeral Mass and reminiscences from various friends and law clerks whose lives were influenced by Antonin Scalia's faith.
Listen to a Clip from the Audio Book.
---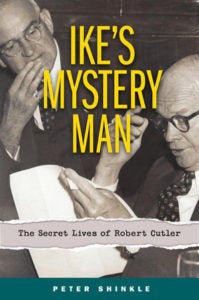 Ike's Mystery Man: The Secret Lives of Robert Cutler by Peter Shinkle
The Cold War, The Lavender Scare and the untold story of Eisenhower's first National Security Advisor.
"An extraordinary story…a gripping, moving tale."—Evan Thomas, author of Ike's Bluff: President Eisenhower's Secret Battle to Save the World
"A historical treasure unearthed…A must-read for all Cold War scholars, it is a great read for everyone else."—Martin J. Sherwin, Pulitzer-Prize-winning co-author of American Prometheus: The Triumph and Tragedy of J. Robert Oppenheimer
"This is a book that deserves, and is sure to get, a wide audience."— Michael Isikoff, co-author of Russian Roulette: The Inside Story of Putin's War on America and the Election of Donald Trump
---