Check out this list of must-read mysteries and thrillers for summer—because not all beach reads have a happy ending.
Plus, be sure to enter to receive an advance readers' copy of The Birthday Girl by Melissa de la Cruz—and be the first to read it this summer! (While Supplies Last)
---
Summer Thrills: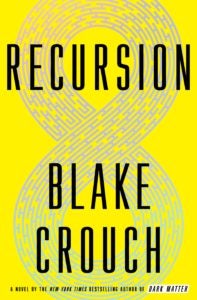 Recursion by Blake Crouch
From the New York Times bestselling author of Dark Matter and the Wayward Pines trilogy comes a relentless thriller about time, identity, and memory—his most ambitious, mind-boggling, irresistible work to date.
Memory makes reality. That's what New York City cop Barry Sutton is learning as he investigates the devastating phenomenon the media has dubbed False Memory Syndrome—a mysterious affliction that drives its victims mad with memories of a life they never lived.
Neuroscientist Helena Smith already understands the power of memory. It's why she's dedicated her life to creating a technology that will let us preserve our most precious moments of our pasts. If she succeeds, anyone will be able to re-experience a first kiss, the birth of a child, the final moment with a dying parent.
As Barry searches for the truth, he comes face-to-face with an opponent more terrifying than any disease—a force that attacks not just our minds but the very fabric of the past. And as its effects begin to unmake the world as we know it, only he and Helena, working together, will stand a chance at defeating it. But how can they make a stand when reality itself is shifting and crumbling all around them?
Listen to a Clip from the Audio Book.
---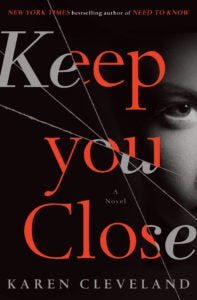 Keep You Close by Karen Cleveland
A woman must confront her sense of right and wrong when the one person she loves most is accused of an unimaginable crime. From the New York Times bestselling author of Need to Know.
            
Stephanie Maddox works her dream job policing power and exposing corruption within the FBI. Getting here has taken her nearly two decades of hard work, laser focus, and personal sacrifices—the most important, she fears, being a close relationship with her teenage son, Zachary. A single parent, Steph would move heaven and earth for him, including protecting him from an explosive secret in her past. It just never occurred to her that Zachary would keep secrets of his own.
One day while straightening her son's room, Steph is shaken to discover a gun hidden in his closet. A loaded gun. Then comes a knock at her front door—a colleague on the domestic terrorism squad, who utters three devastating words: "It's about Zachary."

So begins a compulsively readable thriller of deception and betrayal, as Stephanie fights to clear her son's name, only to expose a shadowy conspiracy that threatens to destroy them both—and bring a country to its knees.
Listen to a Clip from the Audio Book.
---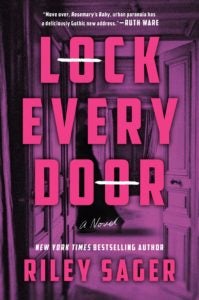 Lock Every Door by Riley Sager
The next heart-pounding thriller from New York Times bestselling author Riley Sager follows a young woman whose new job apartment sitting in one of New York's oldest and most glamorous buildings may cost more than it pays.
No visitors. No nights spent away from the apartment. No disturbing the other residents, all of whom are rich or famous or both. These are the only rules for Jules Larsen's new job as an apartment sitter at the Bartholomew, one of Manhattan's most high-profile and mysterious buildings.
As she gets to know the residents and staff of the Bartholomew, Jules finds herself drawn to fellow apartment sitter Ingrid, who comfortingly reminds her of the sister she lost eight years ago. When Ingrid confides that the Bartholomew is not what it seems and the dark history hidden beneath its gleaming facade is starting to frighten her, Jules brushes it off as a harmless ghost story . . . until the next day, when Ingrid disappears.
Searching for the truth about Ingrid's disappearance, Jules digs deeper into the Bartholomew's sordid past and into the secrets kept within its walls. What she discovers pits Jules against the clock as she races to unmask a killer, expose the building's hidden past, and escape the Bartholomew before her temporary status becomes permanent.
Listen to a Clip from the Audio Book.
---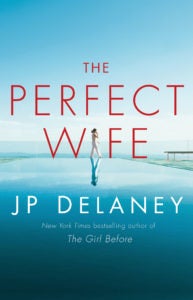 The Perfect Wife by JP Delaney
The perfect life. The perfect love. The perfect lie. From the bestselling author of The Girl Before comes a gripping new psychological thriller.
Abbie awakens in a daze with no memory of who she is or how she landed in this unsettling condition. The man by her side claims to be her husband. He's a titan of the tech world, the founder of one of Silicon Valley's most innovative start-ups. He tells Abbie that she is a gifted artist, an avid surfer, a loving mother to their young son, and the perfect wife. He says she had a terrible accident five years ago and that, through a huge technological breakthrough, she has been brought back from the abyss.
She is a miracle of science.
But as Abbie pieces together memories of her marriage, she begins questioning her husband's motives—and his version of events. Can she trust him when he says he wants them to be together forever? And what really happened to Abbie half a decade ago?
Beware the man who calls you . . . the perfect wife.
---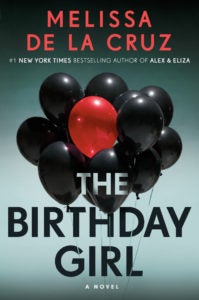 The Birthday Girl by Melissa de La Cruz
From the #1 New York Times bestselling author of Alex & Eliza comes a return to adult fiction, centered around a mysterious woman's birthday celebration—and what it reveals about her past.
Ellie de Florent-Stinson is celebrating her fortieth birthday with a grand celebration in her fabulous house in Palm Springs.
At forty, it appears Ellie has everything she ever wanted. Except everything is not quite as perfect as it looks on the outside—Ellie is keeping many secrets. This isn't the first birthday celebration that hasn't gone as planned. There's a certain sixteenth birthday that she's tried hard to forget.
But hiding the skeletons of her past comes at a cost, and all of Ellie's secrets come to light on the night of her fabulous birthday party in the desert—where everyone who matters in her life shows up, invited or not. Old and new, friends and frenemies, stepdaughters and business partners, ex-wives and ex-husbands congregate, and the glittering facade of her life crumbles in one eventful night.
Enter to Win an Advance Readers' Copy of The Birthday Girl!
---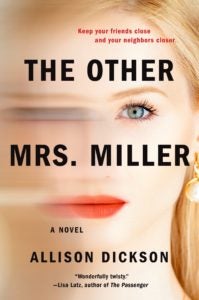 The Other Mrs. Miller by Allison Dickson
An addictive domestic thriller that serves up a delicious brew of dark secrets and stunning plot twists that will keep you captivated until the very last page.
Two women are watching each other.
Phoebe Miller isn't sure when the rusty car started showing up in the cul-de-sac she calls home, or why its driver would be spying on her. What could be interesting about an unhappy housewife who drowns her sorrows in ice cream and wine and barely leaves her house?
Only one knows why.
When a new family moves in across the street—the exuberant Vicki, who just might become the gossipy best friend Phoebe's always wanted, and her handsome college-bound son, Jake, who offers companionship of a different variety—Phoebe finds her dull routine infused with the excitement she's been missing. But with her head turned she's no longer focused on the woman in the car. And she really should be.
---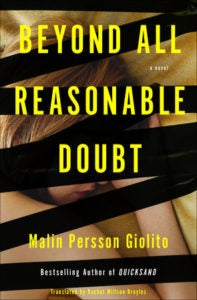 Beyond All Reasonable Doubt by Malin Persson Giolito
From the award-winning author of Quicksand, a gripping legal thriller that follows one woman's conflicted efforts to overturn what may be a wrongful conviction.
I'm giving you a chance to achieve every lawyer's dream, said Sophia Weber's old professor. Freeing an innocent man.
Thirteen years ago, a fifteen-year-old girl was murdered. Doctor Stig Ahlin was sentenced to life in prison. But no one has forgotten the brutal crime. Ahlin is known as one of the most ruthless criminals.
When Sophia Weber discovers critical flaws in the murder investigation, she decides to help Ahlin. But Sophia doing her utmost to get her client exonerated arouses many people's disgust. And the more she learns, the more difficult her job becomes. What kind of man is her client really? What has he done? And will she ever know the truth?
Look Inside to Read an Excerpt.
Listen to a Clip from the Audio Book.
---
Sleuthing in the Sand: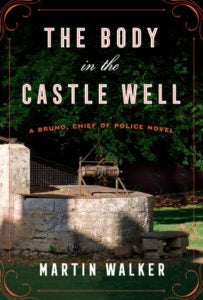 The Body in the Castle Well by Martin Walker
An aging art scholar and a visiting student, haunting echoes of France's colonialist past, and a delicious navarin of lamb—Bruno is back, and his latest case leads him from the Renaissance to the French Resistance and beyond by way of a corpse at the bottom of a well.
When Claudia, a young American, turns up dead in the courtyard of an ancient castle in Bruno's jurisdiction, her death is assumed to be an accident related to opioid use. But her doctor persuades Bruno that things may not be so simple. Thus begins an investigation that leads Bruno to Monsieur de Bourdeille, the scholar with whom the girl had been studying, and then through that man's past. He is a renowned art historian who became extraordinarily wealthy through the sale of paintings that may have been falsely attributed—or so Claudia suggested shortly before her death. In his younger days, Bourdeille had aided the Resistance and been arrested by a Vichy policeman whose own life story also becomes inexorably entangled with the case. Also in the mix is a young falconer who works at the Château des Milandes, the former home of fabled jazz singer Josephine Baker. In the end, of course, Bruno will tie all the loose threads together and see that justice is served—along with a generous helping of his signature Périgordian cuisine.
---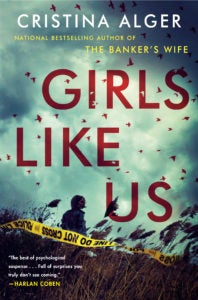 Girls Like Us by Cristina Alger
From the celebrated and bestselling author of The Banker's Wife, worlds collide when an FBI agent investigates a string of grisly murders on Long Island that raises the impossible question: What happens when the primary suspect is your father?
FBI Agent Nell Flynn hasn't been home in ten years. Nell and her father, Homicide Detective Martin Flynn, have never had much of a relationship. And Suffolk County will always be awash in memories of her mother, Marisol, who was brutally murdered when Nell was just seven.
When Martin Flynn dies in a motorcycle accident, Nell returns to the house she grew up in so that she can spread her father's ashes and close his estate. At the behest of her father's partner, Detective Lee Davis, Nell becomes involved in an investigation into the murders of two young women in Suffolk County. The further Nell digs, the more likely it seems to her that her father should be the prime suspect—and that his friends on the police force are covering his tracks.
Plagued by doubts about her mother's murder—and her own role in exonerating her father in that case—Nell can't help but ask questions about who killed Ria Ruiz and Adriana Marques and why. But she may not like the answers she finds—not just about those she loves, but about herself.
---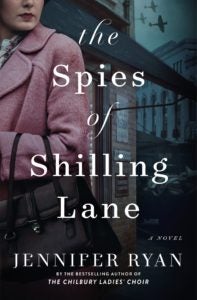 The Spies of Shilling Lane by Jennifer Ryan
From the bestselling author of The Chilbury Ladies' Choir comes a thrilling new WWII story about a village busybody—the mighty Mrs. Braithwaite—who resolves to find, and then rescue, her missing daughter.
Mrs. Braithwaite, self-appointed queen of her English village, finds herself dethroned, despised, and dismissed following her husband's selfish divorce petition. Never deterred, the threat of a family secret being revealed sets her hot-foot to London to find the only person she has left—her clever daughter Betty, who took work there at the first rumbles of war.
But when she arrives, Betty's landlord, the timid Mr. Norris, informs her that Betty hasn't been home in days–with the chaos of the bombs, there's no telling what might have befallen her. Aghast, Mrs. Braithwaite sets her bullish determination to the task of finding her only daughter.
Storming into the London Blitz, Mrs. Braithwaite drags the reluctant Mr. Norris along as an unwitting sidekick as they piece together Betty's unexpectedly chaotic life. As she is thrown into the midst of danger and death, Mrs. Braithwaite is forced to rethink her old-fashioned notions of status, class, and reputation, and to reconsider the question that's been puzzling her since her world overturned: How do you measure the success of your life?
Listen to a Clip from the Audio Book.
---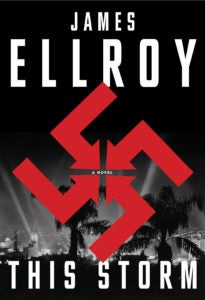 This Storm by James Ellroy
A massive novel of World War II Los Angeles. The crowning work of an American master.
It is January, 1942. Torrential rainstorms hit L.A. A body is unearthed in Griffith Park. The cops rate it a routine dead-man job. They're grievously wrong. It's a summons to misalliance and all the spoils of a brand-new war.
Elmer Jackson is a corrupt Vice cop. He's a flesh peddler and a bagman for the L.A. Chief of Police. Hideo Ashida is a crime-lab whiz, caught up in the maelstrom of the Japanese internment. Dudley Smith is an LAPD hardnose working Army Intelligence. He's gone rogue and gone all-the-way Fascist. Joan Conville was born rogue. She's a defrocked Navy lieutenant and a war profiteer to her core.
They've signed on for the dead-man job. They've got a hot date with History. They will fight their inner wars within The War with unstoppable fury.
Listen to a Clip from the Audio Book.
---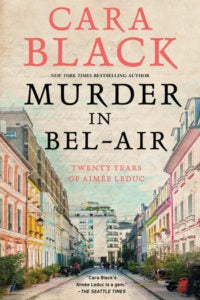 Murder in Bel-Air by Cara Black
Cara Black's riveting 19th installment in her New York Times bestselling Parisian detective series entangles private investigator Aimée Leduc in a dangerous web of international spycraft, post-colonial Franco-African politics, and neighborhood secrets in Paris's 12th arrondissement.
Parisian private investigator Aimée Leduc is about to go onstage to deliver the keynote address at a tech conference that is sure to secure Leduc Detective some much-needed business contracts when she gets an emergency phone call from her daughter's playgroup: Aimée's own mother, who was supposed to pick Chloe up, never showed. Abandoning her hard-won speaking gig, Aimée rushes to get Chloe, annoyed that her mother has let her down yet again.
But as Aimée and Chloe are leaving the playground, Aimée witnesses the body of a homeless woman being wheeled away from the neighboring convent, where nuns run a soup kitchen. The last person anyone saw the dead woman talking to was Aimée's mother, who has vanished. Trying to figure out what happened to Sydney Leduc, Aimée tracks down the dead woman's possessions, which include a huge amount of cash. What did Sydney stumble into? Is she in trouble?
---