This June, celebrate Pride Month with these fiction and nonfiction reads that support the LGBTQIA+ community and make their voices heard.
---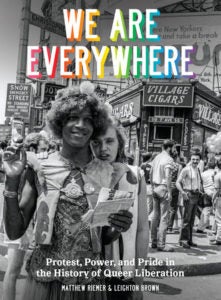 We Are Everywhere: Protest, Power, and Pride in the History of Queer Liberation by Matthew Riemer
A rich and sweeping photographic history of the Queer Liberation Movement, from the creators and curators of the massively popular Instagram account @lgbt_history.
Through the lenses of protest, power, and pride, We Are Everywhere is an essential and empowering introduction to the history of the fight for queer liberation. Combining exhaustively researched narrative with meticulously curated photographs, the book traces queer activism from its roots in late-nineteenth-century Europe—long before the pivotal Stonewall Riots of 1969—to the gender warriors leading the charge today.
Featuring more than 300 images from more than seventy photographers and twenty archives, this inclusive and intersectional book enables us to truly see queer history unlike anything before, with glimpses of activism in the decades preceding and following Stonewall, family life, marches, protests, celebrations, mourning, and Pride. By challenging many of the assumptions that dominate mainstream LGBTQ+ history, We Are Everywhere shows readers how they can–and must–honor the queer past in order to shape our liberated future.
Look Inside to Read an Excerpt.
---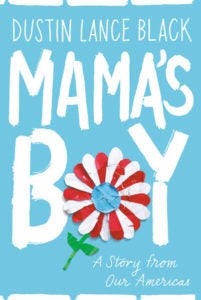 Mama's Boy: A Story from Our Americas by Dustin Lance Black
This heartfelt, deeply personal memoir explores how a celebrated filmmaker and activist and his conservative Mormon mother built bridges across today's great divides—and how our stories hold the power to heal.
Dustin Lance Black wrote the Oscar-winning screenplay for Milk and helped overturn California's anti–gay marriage Proposition 8, but as an LGBTQ activist he has unlikely origins—a conservative Mormon household outside San Antonio, Texas. His mother, Anne, was raised in rural Louisiana and contracted polio when she was two years old. She endured brutal surgeries, as well as braces and crutches for life, and was told that she would never have children or a family. Willfully defying expectations, she found salvation in an unlikely faith, raised three rough-and-rowdy boys, and escaped the abuse and violence of two questionably devised Mormon marriages before finding love and an improbable career in the U.S. civil service.
By the time Lance came out to his mother at age twenty-one, he was a blue-state young man studying the arts instead of going on his Mormon mission. She derided his sexuality as a sinful choice and was terrified for his future. It may seem like theirs was a house destined to be divided, and at times it was. This story shines light on what it took to remain a family despite such division—a journey that stretched from the steps of the U.S. Supreme Court to the woodsheds of East Texas. In the end, the rifts that have split a nation couldn't end this relationship that defined and inspired their remarkable lives.
Listen to a Clip from the Audio Book.
---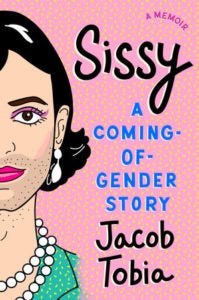 Sissy: A Coming of Gender Story by Jacob Tobia
A heart-wrenching, eye-opening, and giggle-inducing memoir about what it's like to grow up not sure if you're (a) a boy, (b) a girl, (c) something in between, or (d) all of the above.
From the moment a doctor in Raleigh, North Carolina, put "male" on Jacob Tobia's birth certificate, everything went wrong. Alongside "male" came many other, far less neutral words: words that carried expectations about who Jacob was and who Jacob should be, words like "masculine" and "aggressive" and "cargo shorts" and "SPORTS!"
Naturally sensitive, playful, creative, and glitter-obsessed, as a child Jacob was given the label "sissy." In the two decades that followed, "sissy" joined forces with "gay," "trans," "nonbinary," and "too-queer-to-function" to become a source of pride and, today, a rallying cry for a much-needed gender revolution. Through revisiting their childhood and calling out the stereotypes that each of us have faced, Jacob invites us to rethink what we know about gender and offers a bold blueprint for a healed world–one free from gender-based trauma and bursting with trans-inclusive feminism.
Look Inside to Read an Excerpt.
Listen to a Clip from the Audio Book.
---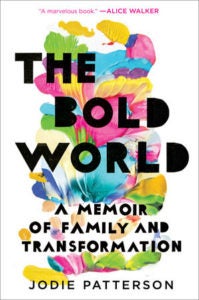 The Bold World: A Memoir of Family and Transformation by Jodie Patterson
Inspired by her transgender son, activist Jodie Patterson explores identity, gender, race, and authenticity to tell the real-life story of a family's history and transformation.
As an African American growing up on Manhattan's Upper West Side in the 1970s, when neighborhoods defined people, Jodie Patterson learned early on to engage with her community for strength and comfort. But then in 2009 this mother of five had her world turned upside down. Realizing that her definition of community wasn't wide enough for her own child's needs, Patterson forced the world wide open.
In The Bold World, we witness a mother reshaping her attitudes and beliefs, as well as those of her community, to meet the needs of her transgender son, Penelope— and opening the minds of everyone in her family who absolutely, unequivocally refused to conform.
Listen to a Clip from the Audio Book.
---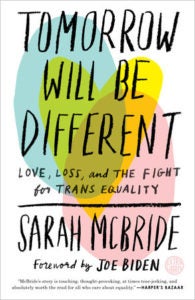 Tomorrow Will Be Different: Love, Loss, and the Fight for Trans Equality by Sarah McBride
Informative, heartbreaking, and profoundly empowering, Tomorrow Will Be Different is McBride's story of love and loss and a powerful entry point into the LGBTQ community's battle for equal rights and what it means to be openly transgender. 
Before she became the first transgender person to speak at a national political convention in 2016 at the age of twenty-six, Sarah McBride struggled with the decision to come out—not just to her family but to the students of American University, where she was serving as student body president. She'd known she was a girl from her earliest memories, but it wasn't until the Facebook post announcing her truth went viral that she realized just how much impact her story could have on the country.
Four years later, McBride was one of the nation's most prominent transgender activists, walking the halls of the White House, advocating inclusive legislation, and addressing the country in the midst of a heated presidential election. She had also found her first love and future husband, Andy, a trans man and fellow activist, who complemented her in every way . . . until cancer tragically intervened.
Listen to a Clip from the Audio Book.
---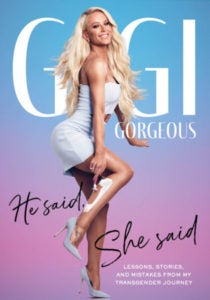 He Said, She Said: Lessons, Stories, and Mistakes from My Transgender Journey by Gigi Gorgeous
Uproarious, unconventional, and unabashedly candid, Gigi shares never-before-heard stories, inspiration, and advice about how your life can take you to incredible places once you get real with yourself.
Today, Gigi Gorgeous is beloved for her critically-acclaimed documentary, her outrageous sense of humor, her no-holds-barred honesty, and her glam Hollywood lifestyle. Ten years ago, she was a gawky Canadian teen named Gregory. In He Said, She Said, Gigi brings us on her personal journey from Gregory to Gigi, going deeper than ever before and exposing her vulnerability behind each struggle and triumph, with her signature humor on every page.
With stunning photography and heirloom snapshots, He Said, She Said takes us back to Gigi's early years as an Olympic-bound diver and high school mean girl, losing her mom at a tragically young age, and her journey of opening up about her sexuality and gender identity. She walks us through her transition, baring it all about dating and heartbreak in her stories of falling in love with both men and women.
Look Inside to Read an Excerpt.
Listen to a Clip from the Audio Book.
---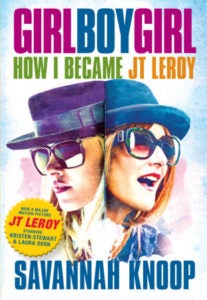 Girl Boy Girl: How I Became JT Leroy by Savannah Knoop
Now a Major Motion Picture, JT Leroy!
When Savannah Knoop was unmasked as the face of the mysterious author JT LeRoy in 2005, one of the biggest literary hoaxes of the modern era was revealed.
Girl Boy Girl tells the story of how a young, queer college dropout came to portray the literary wunderkind JT LeRoy, a persona created by Knoop's sister-in-law. For six years, Knoop led a secret double life, traveling through the looking glass of celebrity to find liberation and alienation in equal measures. Knoop's entanglement with JT and his creator was a game played at the very limits of self-expression, one that changed Knoop's sense of self forever.
Watch the movie trailer for JT Leroy.
Click for More Information About the Book.
---
LGBTQIA+ in Fiction: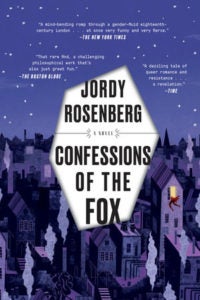 Confessions of the Fox by Jordy Rosenberg
Jack Sheppard and Edgeworth Bess were the most notorious thieves, jailbreakers, and lovers of eighteenth-century London. Yet no one knows the true story; their confessions have never been found.
Until now. Reeling from heartbreak, a scholar named Dr. Voth discovers a long-lost manuscript—a gender-defying exposé of Jack and Bess's adventures. Is Confessions of the Fox an authentic autobiography or a hoax? As Dr. Voth is drawn deeper into Jack and Bess's tale of underworld resistance and gender transformation, it becomes clear that their fates are intertwined—and only a miracle will save them all.
"A mind-bending romp through a gender-fluid eighteenth-century London . . . at once very funny and very fierce.—The New York Times, Editors' Choice
---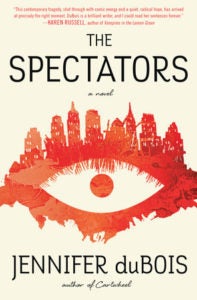 The Spectators by Jennifer duBois
With wit, heart, and crackling intelligence, The Spectators examines the human capacity for reinvention—and forces us to ask ourselves what we choose to look at, and why.
Talk show host Matthew Miller has made his fame by shining a spotlight on the most unlikely and bizarre secrets of society, exposing them on live television in front of millions of gawking viewers. However, the man behind The Mattie M Show remains a mystery—both to his enormous audience and to those who work alongside him every day. But when the high school students responsible for a mass shooting are found to be devoted fans, Mattie is thrust into the glare of public scrutiny, seen as the wry, detached herald of a culture going downhill and going way too far. Soon, the secrets of Mattie's past as a brilliant young politician in a crime-ridden New York City begin to push their way to the surface.
In her most daring and multidimensional novel yet, Jennifer duBois vividly portrays the heyday of gay liberation in the seventies and the grip of the AIDS crisis in the eighties, alongside a backstage view of nineties television in an age of moral panic. DuBois explores an enigmatic man's downfall through the perspectives of two spectators—Cel, Mattie's skeptical publicist, and Semi, the disillusioned lover from his past.
Listen to a Clip of the Audio Book.
---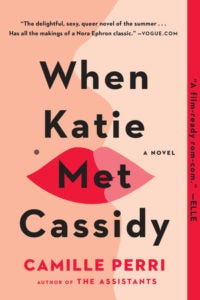 When Katie Met Cassidy by Camille Perri
From the acclaimed author of The Assistants comes a delightful romantic comedy about falling in love—and finding yourself—in the heart of New York City.
Katie Daniels, a twenty-eight-year-old Kentucky transplant with a strong set of traditional values, has just been dumped by her fiancé when she finds herself seated across a negotiating table from native New Yorker Cassidy Price, a sexy, self-assured woman wearing a man's suit. While at first Katie doesn't know what to think, a chance meeting later that night leads them both to the Metropolis, a dimly lit lesbian dive bar that serves as Cassidy's second home.
The night offers straight-laced Katie a glimpse into a wild yet fiercely tight-knit community, one in which barrooms may as well be bedrooms, and loyal friends fill in the spaces absent families leave behind. And in Katie, Cassidy finds a chance to open her heart in new ways. Soon their undeniable chemistry will push each woman to confront what she thinks she deserves—and what it is she truly wants.
Listen to a Clip from the Audio Book.
---