We're expanding our literary vocabulary this week with a florilegium (a collection of literary extracts) to help you find your next read!
Each recommendation comes with an excerpt for you to sample—before you borrow.
And don't miss our Sweet Summer Reads Sampler, filled with the perfect books to fill those long summer days.
---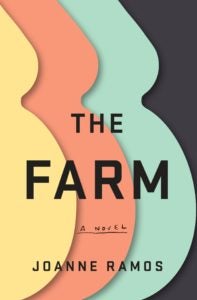 The Farm by Joanna Ramos
Nestled in New York's Hudson Valley is a luxury retreat boasting every amenity: organic meals, personal fitness trainers, daily massages—and all of it for free. In fact, you're paid big money to stay here—more than you've ever dreamed of. The catch? For nine months, you cannot leave the grounds, your movements are monitored, and you are cut off from your former life while you dedicate yourself to the task of producing the perfect baby. For someone else.
Jane, an immigrant from the Philippines, is in desperate search of a better future when she commits to being a "Host" at Golden Oaks—or the Farm, as residents call it. But now pregnant, fragile, consumed with worry for her family, Jane is determined to reconnect with her life outside. Yet she cannot leave the Farm or she will lose the life-changing fee she'll receive on the delivery of her child.
"A provocative idea, and Ramos nails it."—People (Book of the Week)
Emma Roberts recently appeared on Busy Tonight and announced The Farm as Belletrist's May Book of the Month!
Click to watch the announcement.
---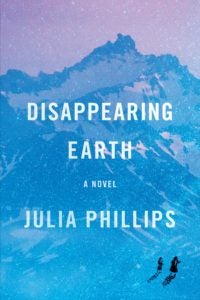 Disappearing Earth by Julia Philips
One August afternoon, on the shoreline of the Kamchatka peninsula at the northeastern edge of Russia, two girls–sisters, eight and eleven–go missing. In the ensuing weeks, then months, the police investigation turns up nothing. Echoes of the disappearance reverberate across a tightly woven community, with the fear and loss felt most deeply among its women.
Taking us through a year in Kamchatka, Disappearing Earth enters with astonishing emotional acuity the worlds of a cast of richly drawn characters, all connected by the crime: a witness, a neighbor, a detective, a mother. We are transported to vistas of rugged beauty–densely wooded forests, open expanses of tundra, soaring volcanoes, and the glassy seas that border Japan and Alaska–and into a region as complex as it is alluring, where social and ethnic tensions have long simmered, and where outsiders are often the first to be accused.
"A genuine masterpiece" –Gary Shteyngart
---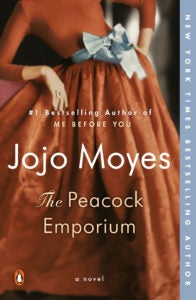 The Peacock Emporium by Jojo Moyes
An early work from the #1 New York Times bestselling author of The Giver of Stars, Jojo Moyes, the story of a young woman who opens an eclectic shop and comes to terms with the secrets of her past.
In the sixties, Athene Forster was the most glamorous girl of her generation. Nicknamed the Last Deb, she was also beautiful, spoiled, and out of control. When she agreed to marry the gorgeous young heir Douglas Fairley-Hulme, her parents breathed a sigh of relief. But within two years, rumors had begun to circulate about Athene's affair with a young salesman.
Thirty-five years later, Suzanna Peacock is struggling with her notorious mother's legacy. The only place Suzanna finds comfort is in The Peacock Emporium, the beautiful coffee bar and shop she opens that soon enchants her little town. There she makes perhaps the first real friends of her life, including Alejandro, a male midwife, escaping his own ghosts in Argentina.
The specter of her mother still haunts Suzanna. But only by confronting both her family and her innermost self will she finally reckon with the past–and discover that the key to her history, and her happiness, may have been in front of her all along.
---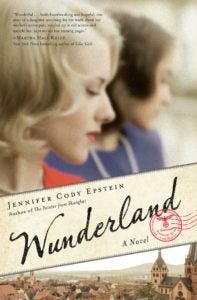 Wunderland by Jennifer Cody Epstein
"Searing . . . a heartbreaking page-turner."—People (Book of the Week)
East Village, 1989
Things had never been easy between Ava Fisher and her estranged mother Ilse. Too many questions hovered between them: Who was Ava's father? Where had Ilse been during the war? Why had she left her only child in a German orphanage during the war's final months? But now Ilse's ashes have arrived from Germany, and with them, a trove of unsent letters addressed to someone else unknown to Ava: Renate Bauer, a childhood friend. As her mother's letters unfurl a dark past, Ava spirals deep into the shocking history of a woman she never truly knew.

Berlin, 1933
As the Nazi party tightens its grip on the city, Ilse and Renate find their friendship under siege—and Ilse's increasing involvement in the Hitler Youth movement leaves them on opposing sides of the gathering storm. Then the Nuremburg Laws force Renate to confront a long-buried past, and a catastrophic betrayal is set in motion.
---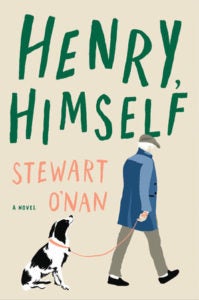 Henry, Himself by Stewart O'Nan
Soldier, son, lover, husband, breadwinner, churchgoer, Henry Maxwell has spent his whole life trying to live with honor. A native Pittsburgher and engineer, he's always believed in logic, sacrifice, and hard work. Now, seventy-five and retired, he feels the world has passed him by. It's 1998, the American century is ending, and nothing is simple anymore. His children are distant, their unhappiness a mystery. Only his wife Emily and dog Rufus stand by him. Once so confident, as Henry's strength and memory desert him, he weighs his dreams against his regrets and is left with questions he can't answer: Is he a good man? Has he done right by the people he loves? And with time running out, what, realistically, can he hope for?
---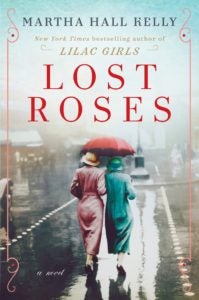 Lost Roses by Martha Hall Kelly
The million-copy bestseller Lilac Girls introduced the real-life heroine Caroline Ferriday. Now Lost Roses, set a generation earlier and also inspired by true events, features Caroline's mother, Eliza, and follows three equally indomitable women from St. Petersburg to Paris under the shadow of World War I.
It is 1914, and the world has been on the brink of war so often, many New Yorkers treat the subject with only passing interest. Eliza Ferriday is thrilled to be traveling to St. Petersburg with Sofya Streshnayva, a cousin of the Romanovs. The two met years ago one summer in Paris and became close confidantes. Now Eliza embarks on the trip of a lifetime, home with Sofya to see the splendors of Russia: the church with the interior covered in jeweled mosaics, the Rembrandts at the tsar's Winter Palace, the famous ballet.
But when Austria declares war on Serbia and Russia's imperial dynasty begins to fall, Eliza escapes back to America, while Sofya and her family flee to their country estate. In need of domestic help, they hire the local fortune-teller's daughter, Varinka, unknowingly bringing intense danger into their household.
On the other side of the Atlantic, Eliza is doing her part to help the White Russian families find safety as they escape the revolution. But when Sofya's letters suddenly stop coming, she fears the worst for her best friend.
"Not only a brilliant historical tale, but a love song to all the ways our friendships carry us through the worst of times."—Lisa Wingate, New York Times bestselling author of Before We Were Yours
---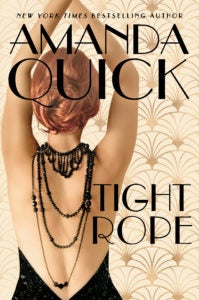 Tightrope by Amanda Quick
Former trapeze artist Amalie Vaughn moved to Burning Cove to reinvent herself, but things are not going well. After spending her entire inheritance on a mansion with the intention of turning it into a bed-and-breakfast, she learns too late that the villa is said to be cursed. When the first guest, Dr. Norman Pickwell, is murdered by his robot invention during a sold-out demonstration, rumors circulate that the curse is real.
In the chaotic aftermath of the spectacle, Amalie watches as a stranger from the audience disappears behind the curtain. When Matthias Jones reappears, he is slipping a gun into a concealed holster.
Matthias is on the trail of a groundbreaking prototype cipher machine. He suspects that Pickwell stole the device and planned to sell it. But now Pickwell is dead and the machine has vanished. When Matthias's investigation leads him to Amalie's front door, the attraction between them is intense, but she knows it is also dangerous. Amalie and Matthias must decide if they can trust each other and the passion that binds them, because time is running out.
---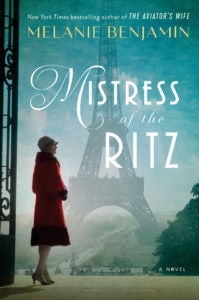 Mistress of the Ritz by Melanie Benjamin
A captivating novel based on the story of the extraordinary real-life American woman who secretly worked for the French Resistance during World War II—while playing hostess to the invading Germans at the iconic Hôtel Ritz in Paris—from the New York Times bestselling author of The Aviator's Wife and The Swans of Fifth Avenue.
Nothing bad can happen at the Ritz; inside its gilded walls every woman looks beautiful, every man appears witty. Favored guests like Ernest Hemingway, F. Scott Fitzgerald, Coco Chanel, and the Duke and Duchess of Windsor walk through its famous doors to be welcomed and pampered by Blanche Auzello and her husband, Claude, the hotel's director. The Auzellos are the mistress and master of the Ritz, allowing the glamour and glitz to take their minds off their troubled marriage, and off the secrets that they keep from their guests—and each other.
Until June 1940, when the German army sweeps into Paris, setting up headquarters at the Ritz. Suddenly, with the likes of Hermann Goëring moving into suites once occupied by royalty, Blanche and Claude must navigate a terrifying new reality. One that entails even more secrets and lies. One that may destroy the tempestuous marriage between this beautiful, reckless American and her very proper Frenchman. For in order to survive—and strike a blow against their Nazi "guests"—Blanche and Claude must spin a web of deceit that ensnares everything and everyone they cherish.
But one secret is shared between Blanche and Claude alone—the secret that, in the end, threatens to imperil both of their lives, and to bring down the legendary Ritz itself.
---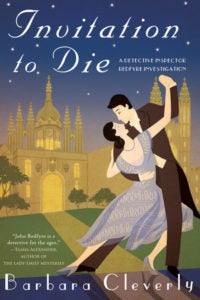 Invitation to Die by Barbara Cleverly
Cambridge, 1924 in early summertime. May Balls, punting on the Cam, flirting and dancing the tango are the preoccupations of bright young people, but bright young Detective Inspector John Redfyre finds himself mired in multiple murders.
One morning, his dog discovers a corpse neatly laid on a tombstone in the graveyard adjoining St. Bede's College. An army greatcoat and well-worn boots suggest the dead man may have been a former soldier, though the empty bottle of brandy and a card bearing the words "An Invitation to Dine" on the victim ring a discordant note. Even more unsettling is the autopsy, which reveals death by strangulation and unusual contents in the stomach from the man's last meal. Redfyre learns that this murder is one of several unsolved cases linked to a secretive and sinister dining club at St. Bede's.
Redfyre, himself an ex-rifleman, becomes caught in a dark tale of revenge, betrayal and injustice—a lingering mystery from a long-forgotten war. With the unlikely assistance of his lead suspect, he gradually unearths the dead man's story and fights to right an ancient wrong.
---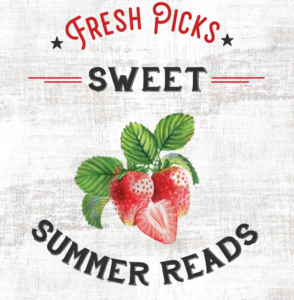 Download our Sweet Summer Sampler featuring excerpts of the season's best books, freshly picked just for you!
Click to Download the Sweet Summer Reads Sampler.
---

Want more great excerpts delivered right to your inbox? Sign up for our First Look Book Club and receive daily bites of the first chapter of a new book every week!