Make time for Moms to read this Mother's Day with this inspirational and affirming mix of fiction and  nonfiction that can help moms relax and (finally) make some time for themselves.
---
Moms (and Grandmas) Inspiring Moms (and Grandmas):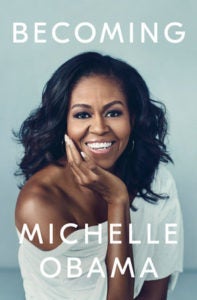 Becoming by Michelle Obama
An intimate, powerful, and inspiring memoir by the former First Lady of the United States.
In a life filled with meaning and accomplishment, Michelle Obama has emerged as one of the most iconic and compelling women of our era. As First Lady of the United States of America—the first African American to serve in that role—she helped create the most welcoming and inclusive White House in history, while also establishing herself as a powerful advocate for women and girls in the U.S. and around the world, dramatically changing the ways that families pursue healthier and more active lives, and standing with her husband as he led America through some of its most harrowing moments. Along the way, she showed us a few dance moves, crushed Carpool Karaoke, and raised two down-to-earth daughters under an unforgiving media glare.
In her memoir, a work of deep reflection and mesmerizing storytelling, Michelle Obama invites readers into her world, chronicling the experiences that have shaped her—from her childhood on the South Side of Chicago to her years as an executive balancing the demands of motherhood and work, to her time spent at the world's most famous address.
Look Inside to Read an Excerpt.
---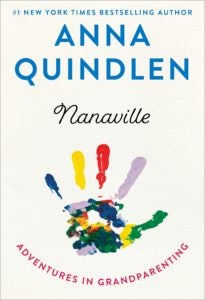 Nanaville: Adventures in Grandparenting by Anna Quindlen
A bighearted book of wisdom, wit, and insight, celebrating the love and joy of being a grandmother, from the Pulitzer Prize–winning columnist and #1 bestselling author.
Before blogs even existed, Anna Quindlen became a go-to writer on the joys and challenges of family, motherhood, and modern life, in her nationally syndicated column. Now she's taking the next step and going full nana in the pages of this lively, beautiful, and moving book about being a grandmother. Quindlen offers thoughtful and telling observations about her new role, no longer mother and decision-maker but secondary character and support to the parents of her grandson. She writes, "Where I once led, I have to learn to follow." Eventually a close friend provides words to live by: "Did they ask you?"
---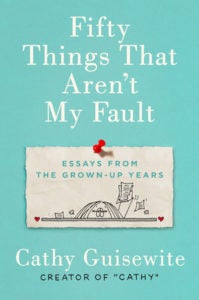 Fifty Things That Aren't My Fault: Essays from the Grown-Up Years by Cathy Guisewite
From the creator of the iconic "Cathy" comic strip comes her first collection of funny, wise, poignant, and incredibly honest essays about being a woman in what she lovingly calls "the panini generation."
As the creator of "Cathy," Cathy Guisewite found her way into the hearts of readers more than forty years ago, and has been there ever since. Her hilarious and deeply relatable look at the challenges of womanhood in a changing world became a cultural touchstone for women everywhere. Now Guisewite returns with her signature wit and warmth in this debut essay collection about another time of big transition, when everything starts changing and disappearing without permission: aging parents, aging children, aging self stuck in the middle.
---
Relaxing Reads for Moms: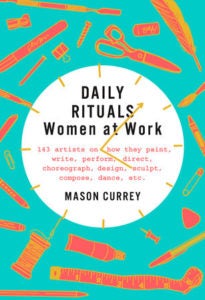 Daily Rituals: Women at Work Edited by Mason Currey
More of Mason Currey's irresistible Daily Rituals, this time exploring the daily obstacles and rituals of women who are artists—painters, composers, sculptors, scientists, filmmakers, and performers. We see how these brilliant minds get to work, the choices they have to make: rebuffing convention, stealing (or secreting away) time from the pull of husbands, wives, children, obligations, in order to create their creations.
From those who are the masters of their craft (Eudora Welty, Lynn Fontanne, Penelope Fitzgerald, Marie Curie) to those who were recognized in a burst of acclaim (Lorraine Hansberry, Zadie Smith) . . . from Clara Schumann and Shirley Jackson, carving out small amounts of time from family life, to Isadora Duncan and Agnes Martin, rejecting the demands of domesticity, Currey shows us the large and small (and abiding) choices these women made—and continue to make—for their art.
Elizabeth Barrett Browning, George Eliot, Edith Wharton, Virginia Woolf, Frida Kahlo, Patti Smith, and more—on their daily routines, superstitions, fears, eating (and drinking) habits, and other finely (and not so finely) calibrated rituals that help summon up willpower and self-discipline, keeping themselves afloat with optimism and fight, as they create (and avoid creating) their creations.
---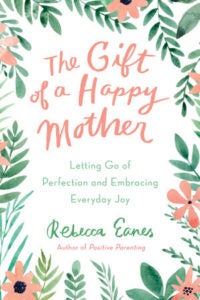 The Gift of a Happy Mother: Letting Go of Perfection and Embracing Everyday Joy by Rebecca Eanes
A supportive guide that gives busy moms permission to care for themselves—filled with fresh insights, simple strategies, and aha moments—it's a booster shot of confidence, connection, and joy.
"Would you rather have a perfect mom, or a happy one?" This is the question that popular parenting blogger Rebecca Eanes couldn't get out of her head. So she asked her school-age son, who didn't miss a beat in responding: "A happy one."
In this relatable guide, Rebecca walks readers through the process of getting back to happy, for your own sake as well as your family's. Going beyond the usual advice about finding balance, embracing gratitude, and not sweating the small stuff, her hard-won advice is written by a busy mom in the trenches. Topics include: making peace with the past; tuning in to your own wants and needs; finding magic in the mess, and more!
---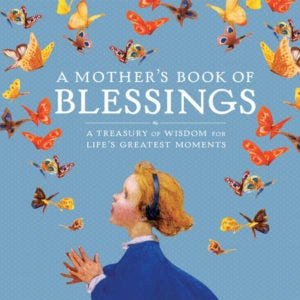 A Mother's Book of Blessings: A Treasury of Wisdom for Life's Greatest Moments by Lena Tabori
Curated especially for mothers, this keepsake contains more than 100 blessings from around the world to celebrate life's special moments and encourage reflection for the whole family.
With ageless wisdom for every occasion, this elegant is illustrated with exquisite vintage art, filled with time-honored proverbs, enriching parables, uplifting quotes, and inspiring poetry that encourage readers to contemplate and celebrate life's milestones. These illuminating words and their invaluable lessons, drawn from cultures around the world, will resonate with families from all walks of life.
Look Inside to Read an Excerpt.
---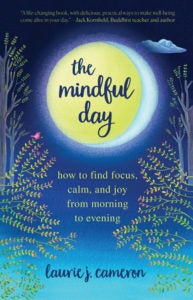 The Mindful Day: How to Find Focus, Calm, and Joy from Morning to Evening by Laurie J. Cameron
This step-by-step guide draws on contemplative traditions, modern neuroscience, and leading psychology to bring peace and focus to the home, in the workplace, and beyond.
In this enriching book, noted mindfulness expert and international teacher and business leader Laurie J. Cameron—a veteran of the Search Inside Yourself Leadership Institute, a Senior Fellow at the Center for the Advancement of Well-Being at George Mason, and 20-year mindfulness meditation practitioner—shows how to seamlessly weave mindfulness and compassion practices into your life.
Timeless teachings, compelling science and straightforward exercises designed for busy schedules—from waking up to joy, the morning commute, to back-to-back meetings and evening dinners—show how mindfulness practice can help you navigate life's complexity with mastery, clarity and ease. Cameron's practical wisdom and concrete how-to steps will help you make the most of the present moment, creating a roadmap for inner peace—and a life of deeper purpose and joy.
Look Inside to Read an Excerpt.
---
Inspiring Women in Fiction: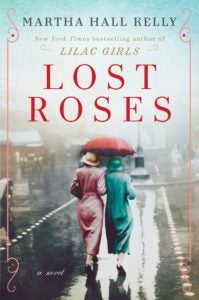 Lost Roses by Martha Hall Kelly
From the bestselling author of Lilac Girls—who introduced the real-life heroine Caroline Ferriday. Now, set a generation earlier and also inspired by true events, features Caroline's mother, Eliza, and follows three equally indomitable women from St. Petersburg to Paris under the shadow of World War I.
It is 1914, and the world has been on the brink of war so often, many New Yorkers treat the subject with only passing interest. Eliza Ferriday is thrilled to be traveling to St. Petersburg with Sofya Streshnayva, a cousin of the Romanovs.
But when Austria declares war on Serbia and Russia's imperial dynasty begins to fall, Eliza escapes back to America, while Sofya and her family flee to their country estate.
In her newest powerful tale told through female-driven perspectives, Martha Hall Kelly celebrates the unbreakable bonds of women's friendship, especially during the darkest days of history.
Click for a Book Club Kit (including photos, recipes, and more).
---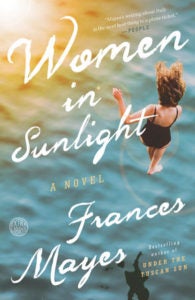 Women in Sunlight by Frances Mayes
By the bestselling author of Under the Tuscan Sun, the story of four American strangers who bond in Italy and change their lives over the course of an exceptional year.
Kit Raine, an American writer living in Tuscany, is working on a biography of her close friend, a complex woman who continues to cast a shadow on Kit's own life. Her work is waylaid by the arrival of three women—Julia, Camille, and Susan—all of whom have launched a recent and spontaneous friendship that will uproot them completely and redirect their lives. Susan, the most adventurous of the three, has enticed them to subvert expectations of staid retirement by taking a lease on a big, beautiful house in Tuscany. Though novices in a foreign culture, their renewed sense of adventure imbues each of them with a bright sense of bravery, a gusto for life, and a fierce determination to thrive. But how? With Kit's friendship and guidance, the three friends launch themselves into Italian life, pursuing passions long-forgotten—and with drastic and unforeseeable results.
---