Graduation season is upon us and it can be thrilling—but also scary. For those transitioning from one stage to the next, here are some inspirational, funny, and informative reads that are great for grads.
---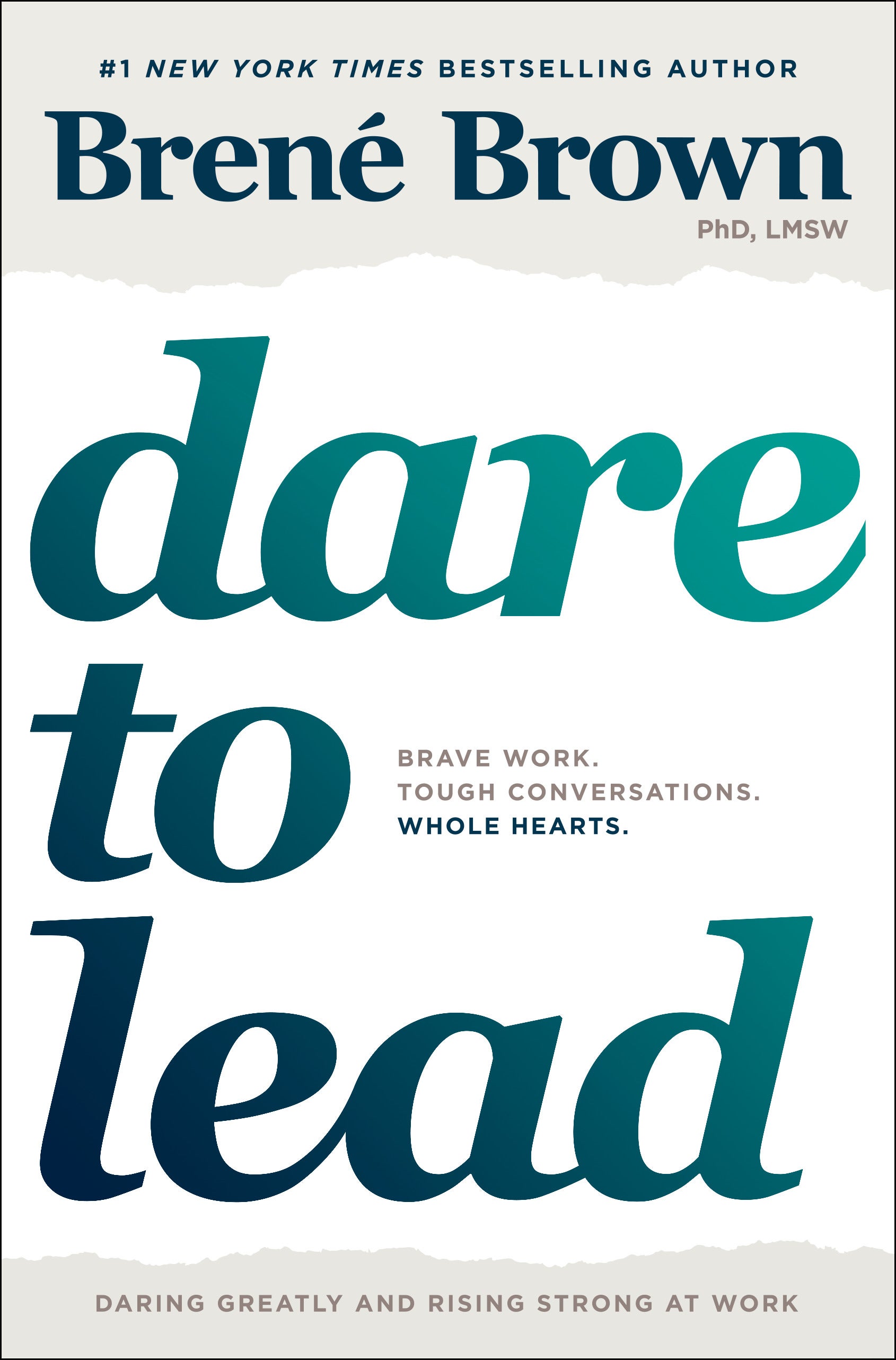 Dare to Lead: Brave Work, Tough Conversations, Whole Hearts by Brené Brown, PhD, LMSW
Through her TEX Talks, bestselling books, and new hourlong Netflix special Brené Brown: The Call to Courage!, Brené Brown has taught us what it means to dare greatly, rise strong, and brave the wilderness. Now, she's showing us how we can step up and lead.
Leadership is not about titles, status, and wielding power. A leader is anyone who takes responsibility for recognizing the potential in people and ideas, and has the courage to develop that potential.
When we dare to lead, we don't pretend to have the right answers; we stay curious and ask the right questions. We don't see power as finite and hoard it; we know that power becomes infinite when we share it with others. We don't avoid difficult conversations and situations; we lean into vulnerability when it's necessary to do good work.
But daring leadership in a culture defined by scarcity, fear, and uncertainty requires skill-building around traits that are deeply and uniquely human. The irony is that we're choosing not to invest in developing the hearts and minds of leaders at the exact same time as we're scrambling to figure out what we have to offer that machines and AI can't do better and faster. What can we do better? Empathy, connection, and courage, to start.
Click to Watch the Brené Brown: The Call to Courage Netflix Trailer.
See More Books by Brené Brown.
Visit Brené Brown Website for Videos, Downloads, Guides, and More.
---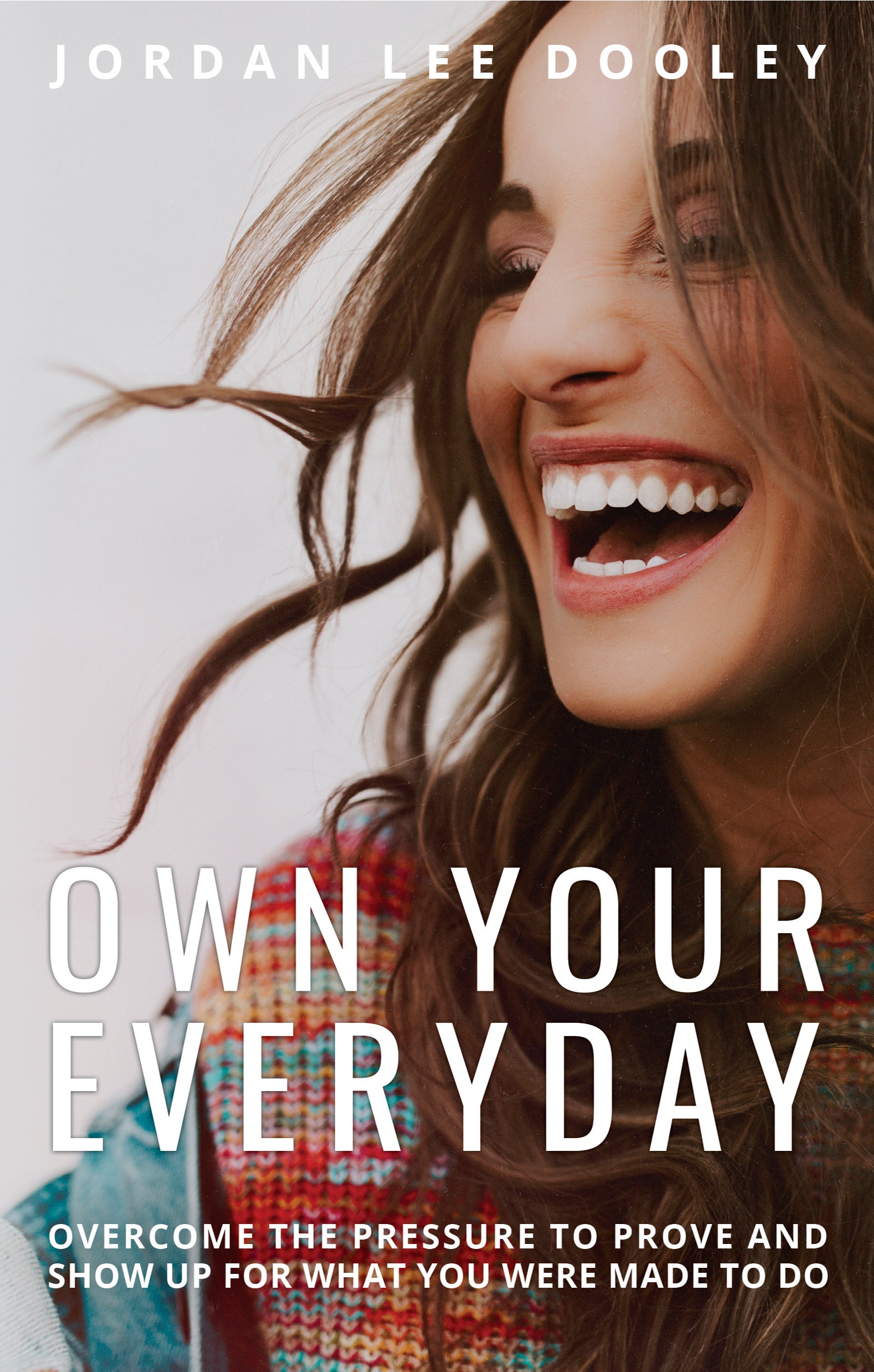 Own Your Everyday: Overcome the Pressure to Prove and Show Up for What You Were Made to Do by Jordan Lee Dooley
A rising star in the podcast, young entrepreneur, and faith space presents The Purpose Driven Life for the next generation.
Widely recognized for her "SHE" podcast and her tagline "Your Brokenness is Welcome Here," Jordan has become a go-to source that women around the world look to for daily inspiration to find their purpose in life. Now for the first time in book form, she is helping you—and them—discover how to chase after something more while also finding contentment where you are, with what you have.
Rooted in faith and jam-packed with tangible takeaways, this book pairs Jordan's relatable voice with her unique perspective, powerful motivation, and practical tools to equip you to: tackle such obstacles as disappointment, perfectionism, comparison, and distraction; remove labels and break out of the box of expectations; identify and eliminate excuses and unnecessary stress about an unknown future, and more.
Visit Jordan Lee Dooley's Website for Information About Her Podcast.
---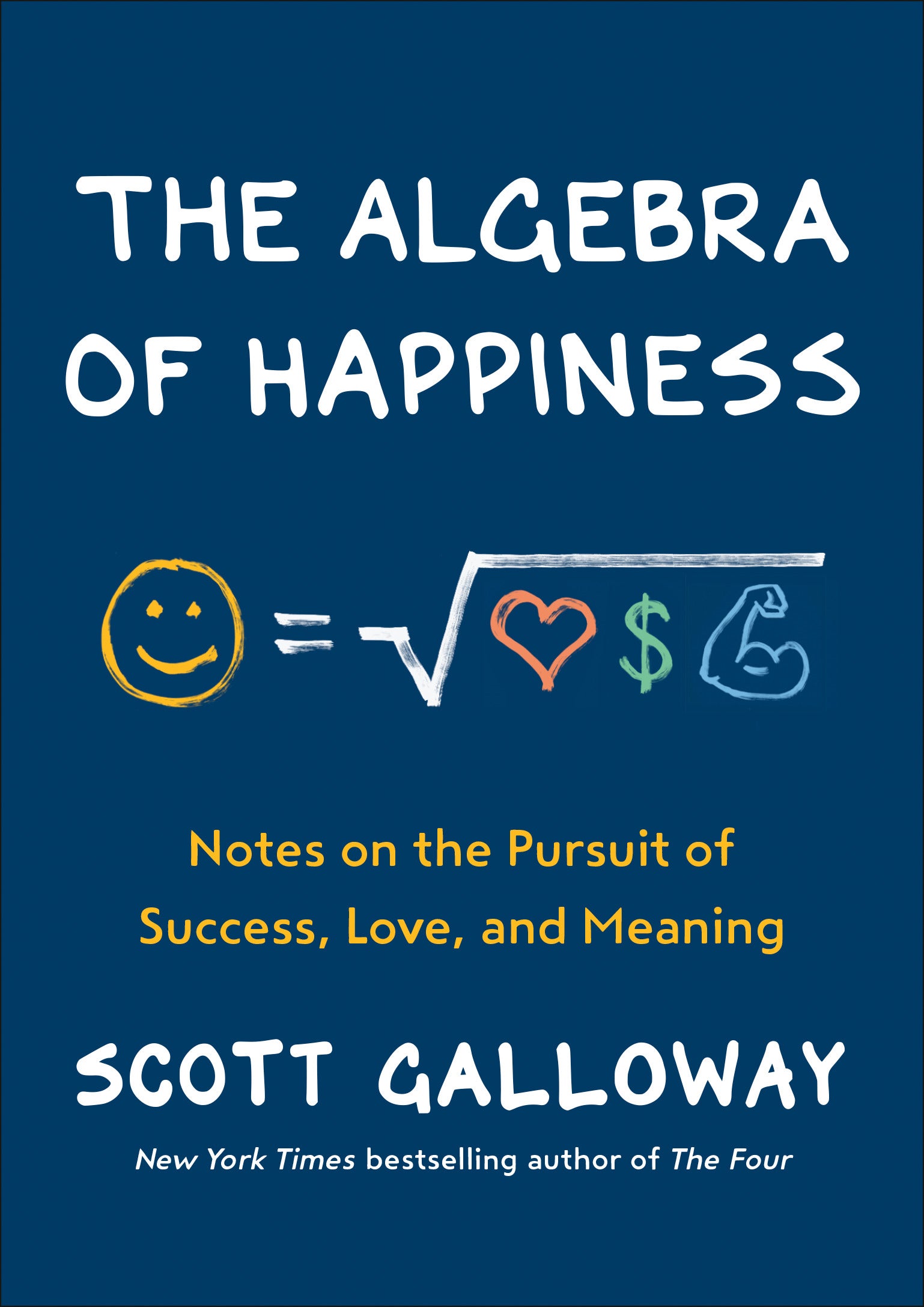 The Algebra of Happiness: Notes on the Pursuit of Success, Love, and Meaning by Scott Galloway
An unconventional book of wisdom and life advice from renowned business school professor and New York Times bestselling author of The Four Scott Galloway.
The Algebra of Happiness: Notes on the Pursuit of Success, Love, and Meaning draws on Professor Galloway's mix of anecdotes and no-BS insight to share hard-won wisdom about life's challenges, along with poignant personal stories.
Whether it's advice on if you should drop out of school to be an entrepreneur (it might have worked for Steve Jobs, but you're probably not Steve Jobs), ideas on how to position yourself in a crowded job market (do something "boring" and move to a city; passion is for people who are already rich), discovering what the most important decision in your life is (it's not your job, your car, OR your zip code), or arguing that our relationships to others are ultimately all that matter, Galloway entertains, inspires, and provokes.
---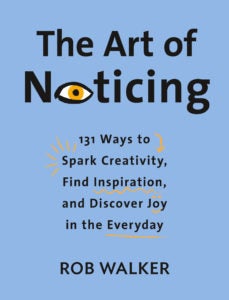 The Art of Noticing: 131 Ways to Spark Creativity, Find Inspiration, and Discover Joy in the Everyday by Rob Walker
An imaginative, thought-provoking book to awaken your senses and attune them to the things that matter in your life.
Welcome to the era of white noise. Our lives are in constant tether to phones, to email, and to social media. In this age of distraction, the ability to experience and be present is often lost: to think and to see and to listen.
Enter Rob Walker's The Art of Noticing. This gorgeously illustrated volume will spark your creativity–and most importantly, help you see the world anew. Through a series of simple and playful exercises—131 of them—Walker maps ways for you to become a clearer thinker, a better listener, a more creative workplace colleague and finally, to rediscover your sense of passion and to notice what really matters to you.
---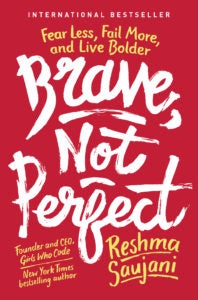 Brave, Not Perfect: Fear Less, Fail More, and Live Bolder by Reshma Saujani
In a book inspired by her popular TED talk, New York Times bestselling author Reshma Saujani empowers women to embrace imperfection and bravery.
Too many of us feel crushed under the weight of our own expectations. We run ourselves ragged trying to please everyone, all the time. We lose sleep ruminating about whether we may have offended someone, pass up opportunities that take us out of our comfort zones, and avoid rejection at all costs.
There's a reason we act this way, Reshma says. As girls, we were taught to play it safe. Well-meaning parents and teachers praised us for being quiet and polite, urged us to be careful so we didn't get hurt, and steered us to activities at which we could shine.
As a result, we grew up to be women who are afraid to fail. It's time to stop letting our fears drown out our dreams and narrow our world, along with our chance at happiness.
By choosing bravery over perfection, we can find the power to claim our voice, to leave behind what makes us unhappy, and go for the things we genuinely, passionately want. Perfection may set us on a path that feels safe, but bravery leads us to the one we're authentically meant to follow.
Listen to Reshma Saujani's Brave, Not Perfect Podcast.
---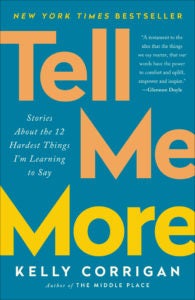 Tell Me More: Stories About the 12 Hardest Things I'm Learning to Say by Kelly Corrigan
A story-driven collection of essays on the twelve powerful phrases we use to sustain our relationships, from the bestselling author of Glitter and Glue and The Middle Place.
It's a crazy idea: trying to name the phrases that make love and connection possible. But that's just what Kelly Corrigan has set out to do here. In her New York Times bestselling memoirs, Corrigan distilled our core relationships to their essences, showcasing a warm, easy storytelling style. Now, in Tell Me More, she's back with a deeply personal, unfailingly honest, and often hilarious examination of the essential phrases that turn the wheel of life.
In "I Don't Know," Corrigan wrestles to make peace with uncertainty, whether it's over invitations that never came or a friend's agonizing infertility. In "No," she admires her mother's ability to set boundaries and her liberating willingness to be unpopular. In "Tell Me More," a facialist named Tish teaches her something important about listening. And in "I Was Wrong," she comes clean about her disastrous role in a family fight—and explains why saying sorry may not be enough. With refreshing candor, a deep well of empathy, and her signature desire to understand "the thing behind the thing," Corrigan swings between meditations on life with a preoccupied husband and two mercurial teenage daughters to profound observations on love and loss.
Visit Kelly Corrigan's Website for Videos and More.
---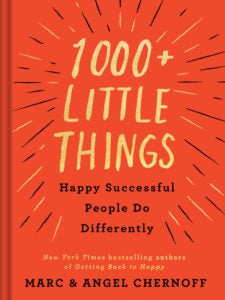 1000+ Little Things Happy and Successful People Do Differently by Marc Chernoff and Angel Chernoff
New York Times bestselling authors Marc and Angel Chernoff deliver instant inspiration and powerful advice for becoming our best selves.
Millions of readers turn to Marc and Angel Chernoff for fresh, intimate insights for a fulfilled life. In this pithy and empowering guide, they collect the very best advice they've discovered, on topics that include overcoming setbacks, letting go of what's holding us back, nurturing relationships, finding time for self-care, and cultivating passion in order to achieve our wildest dreams including: 10 Mistakes Unhappy People Make; 28 Ways to Stop Complicating Your Life; 12 Tough Truths That Help You Grow, and more.
Look Inside to Read an Excerpt.
---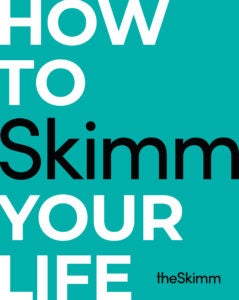 How to Skimm Your Life by The Skimm
It might seem like everyone you know took secret classes on budgeting, owning their career, and choosing the right wine—and you were sick that day. Enter: How to Skimm Your Life.
With theSkimm's trademark mix of real talk, humor, and inspirational messaging, this book gives you the information you need to make informed and empowered decisions in your life. Covering everything from personal finance, to career, to stress management, global politics, and more, How to Skimm Your Life breaks down some of the less glamorous parts of adulting and answers questions like: What's the difference between an ETF and a mutual fund?; How should I negotiate my salary when I'm offered a new job?; How should I tip while traveling abroad?, and more.
---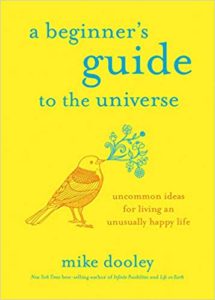 A Beginner's Guide to the Universe: Uncommon Ideas for Living an Unusually Happy Life by Mike Dooley
Mike Dooley, the beloved creator of Notes from the Universe, distills a career's worth of inspiration into elegant, brief lessons for making our way through the world.
Through books, courses, and live events, Mike has engaged students with his trademark humor, wisdom, and sheer joy in living. He speaks of understanding our innate spirituality and personal responsibility as the means to unlocking our power over the illusions of time and space. A Beginner's Guide to the Universe is filled with gem-like bits of wisdom imparting his most essential, heartfelt advice about living deliberately and creating consciously.
Cleverly guiding the reader through a range of topics—including family and relationships, power and responsibility, adversity and rebounding, even the nature of heaven, angels, and God—Mike succeeds in making a happy life in this universe seem easily within our reach. The short passages of text placed artfully on each page, in a book that's a pleasure to hold in the hand, make this an ideal gift for a parent, a parent-to-be, a child, a new grad, a dear friend, or anyone who needs a dose of Dooley, whether they know it or not.
---