Whether you're looking for inspiration or a fascinating and true narrative, spark discussion at your next book club with these nonfiction reads for every kind of book club.
---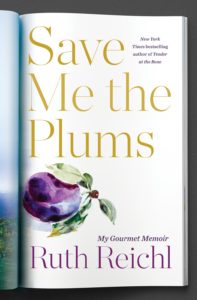 For Foodie Book Clubs:
Save Me the Plums: My Gourmet Memoir by Ruth Reichl
Trailblazing food writer and beloved restaurant critic Ruth Reichl took the job (and the risk) of a lifetime when she entered the high-stakes world of magazine publishing. Now, for the first time, she chronicles her groundbreaking tenure as editor in chief of Gourmet.
When Condé Nast offered Ruth Reichl the top position at America's oldest epicurean magazine, she declined. She was a writer, not a manager, and had no inclination to be anyone's boss. Yet Reichl had been reading Gourmet since she was eight; it had inspired her career. How could she say no?
This is the story of a former Berkeley hippie entering the corporate world and worrying about losing her soul. It is the story of the moment restaurants became an important part of popular culture, a time when the rise of the farm-to-table movement changed, forever, the way we eat. Readers will meet legendary chefs like David Chang and Eric Ripert, idiosyncratic writers like David Foster Wallace, and a colorful group of editors and art directors who, under Reichl's leadership, transformed stately Gourmet into a cutting-edge publication. This was the golden age of print media—the last spendthrift gasp before the Internet turned the magazine world upside down.
---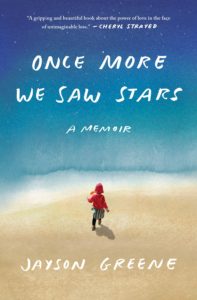 For Book Clubs Looking for a Human Connection:
Once More We Saw Stars: A Memoir by Jayson Greene
"A gripping and beautiful book about the power of love in the face of unimaginable loss."—Cheryl Strayed
As the book opens: two-year-old Greta Greene is sitting with her grandmother on a park bench on the Upper West Side of Manhattan. A brick crumbles from a windowsill overhead, striking her unconscious, and she is immediately rushed to the hospital. But although it begins with this event and with the anguish Jayson and his wife, Stacy, confront in the wake of their daughter's trauma and the hours leading up to her death, Once More We Saw Stars quickly becomes a narrative that is as much about hope and healing as it is about grief and loss.
Jayson recognizes, even in the midst of his ordeal, that there will be a life for him beyond it—that if only he can continue moving forward, from one moment to the next, he will survive what seems unsurvivable.
Look Inside to Read an Excerpt.
---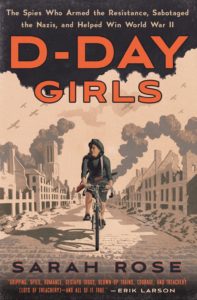 For History-Buff Book Clubs:
D-Day Girls: The Spies Who Armed the Resistance, Sabotaged the Nazis, and Helped Win World War II by Sarah Rose
The dramatic, untold true story of the extraordinary women recruited by Britain's elite spy agency to help pave the way for Allied victory in World War II.
In 1942, the Allies were losing, Germany seemed unstoppable, and every able man in England was on the front lines. To "set Europe ablaze," in the words of Winston Churchill, the Special Operations Executive (SOE) was forced to do something unprecedented: recruit women as spies. Thirty-nine answered the call, leaving their lives and families to become saboteurs in France.
In D-Day Girls, Sarah Rose draws on recently de­classified files, diaries, and oral histories to tell the thrilling story of three of these remarkable women. There's Andrée Borrel, a scrappy and streetwise Parisian who blew up power lines with the Gestapo hot on her heels; Odette Sansom, an unhappily married suburban mother who saw the SOE as her ticket out of domestic life and into a meaningful adventure; and Lise de Baissac, a fiercely independent member of French colonial high society and the SOE's unflap­pable "queen." Together, they destroyed train lines, ambushed Nazis, plotted prison breaks, and gathered crucial intelligence—laying the groundwork for the D-Day invasion that proved to be the turning point in the war.
Look Inside to Read an Excerpt.
---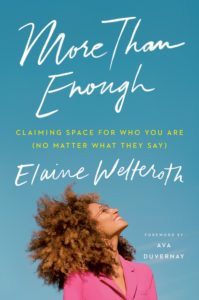 For #BossGirl Book Clubs:
More Than Enough: Claiming Space for Who You Are (No Matter What They Say) by Elaine Welteroth
In this part-manifesto, part-memoir, the revolutionary editor who infused social consciousness into the pages of Teen Vogue explores what it means to come into your own—on your own terms.
Throughout her life, Elaine Welteroth has climbed the ranks of media and fashion, shattering ceilings along the way. In this riveting and timely memoir, the groundbreaking journalist unpacks lessons on race, identity, and success through her own journey, from navigating her way as the unstoppable child of a unlikely interracial marriage in small-town California to finding herself on the frontlines of a modern movement for the next generation of change makers.
Welteroth moves beyond the headlines and highlight reels to share the profound lessons and struggles of being a barrier-breaker across so many intersections. As a young boss and often the only Black woman in the room, she's had enough of the world telling her—and all women—they're not enough. As she learns to rely on herself by looking both inward and upward, we're ultimately reminded that we're more than enough.
---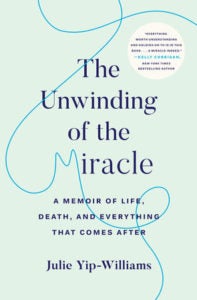 For Book Clubs That Loved When Breath Becomes Air:
The Unwinding of the Miracle: A Memoir of Life, Death and Everything That Comes After by Julie Yip-Williams
Chosen as Jenna Bush Hager's April #ReadwithJenna book club pick—as a young mother facing a terminal diagnosis, Julie Yip-Williams began to write her story, a story like no other. What began as the chronicle of an imminent and early death became something much more—a powerful exhortation to the living.
That Julie Yip-Williams survived infancy was a miracle. Born blind in Vietnam, she narrowly escaped euthanasia at the hands of her grandmother, only to flee with her family the political upheaval of her country in the late 1970s. Loaded into a rickety boat with three hundred other refugees, Julie made it to Hong Kong and, ultimately, America, where a surgeon at UCLA gave her partial sight. She would go on to become a Harvard-educated lawyer, with a husband, a family, and a life she had once assumed would be impossible. Then, at age thirty-seven, with two little girls at home, Julie was diagnosed with terminal metastatic colon cancer, and a different journey began.
Click to Read an Excerpt.

Click to Watch Jenna Bush Hager's April Book Club Pick Announcement on Today.
---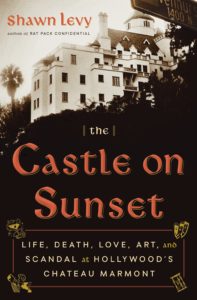 For Book Clubs That Like a Good Scandal:
Castle on Sunset: Life, Death, Love, Art, and Scandal at Hollywood's Chateau Marmont by Shawn Levy
The definitive history of Hollywood's most iconic, storied, and scandalous hotel.
"I want to live inside this book!"—Taylor Jenkins Reid, author of Daisy Jones & The Six
For ninety years, Hollywood's brightest stars have favored the Chateau Marmont as a home away from home. An apartment house-turned-hotel, it has been the backdrop for generations of gossip and folklore: 1930s bombshell Jean Harlow took lovers during her third honeymoon there; director Nicholas Ray slept with his sixteen-year-old Rebel Without a Cause star Natalie Wood; Anthony Perkins and Tab Hunter met poolside and began a secret affair; Jim Morrison swung from the balconies, once falling nearly to his death; John Belushi suffered a fatal overdose in a private bungalow; Lindsay Lohan got the boot after racking up nearly $50,000 in charges in less than two months.
Perched above the Sunset Strip like a fairytale castle, the Chateau seems to come from another world entirely. Its singular appearance houses an equally singular history. While a city, an industry, and a culture have changed around it, Chateau Marmont has welcomed the most iconic and iconoclastic personalities in film, music, and media. It appeals to the rich and famous not just for its European ambiance but for its seclusion: Much of what's happened inside the Chateau's walls has eluded the public eye.
---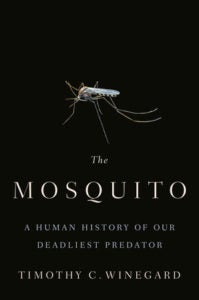 For Book Clubs That Love Mary Roach:
The Mosquito: A Human History of Our Deadliest Predator by Timothy C. Winegard
A pioneering and groundbreaking work of narrative nonfiction that offers a dramatic new perspective on the history of humankind, showing how through millennia, the mosquito has been the single most powerful force in determining humanity's fate.
Across our planet since the dawn of humankind, this nefarious pest, roughly the size and weight of a grape seed, has been at the frontlines of history as the grim reaper, the harvester of human populations, and the ultimate agent of historical change. As the mosquito transformed the landscapes of civilization, humans were unwittingly required to respond to its piercing impact and universal projection of power.
The mosquito has determined the fates of empires and nations, razed and crippled economies, and decided the outcome of pivotal wars, killing nearly half of humanity along the way. She (only females bite) has dispatched an estimated 52 billion people from a total of 108 billion throughout our relatively brief existence. As the greatest purveyor of extermination we have ever known, she has played a greater role in shaping our human story than any other living thing with which we share our global village.
---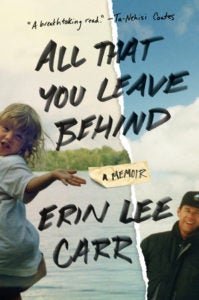 For Father-Daughter Book Clubs:
All That You Leave Behind: A Memoir by Erin Lee Carr
A celebrated journalist, bestselling author (The Night of the Gun), and recovering addict, David Carr was in the prime of his career when he suffered a fatal collapse in the newsroom of The New York Times in 2015. Shattered by his death, his daughter Erin Lee Carr, at age twenty-seven an up-and-coming documentary filmmaker, began combing through the entirety of their shared correspondence—1,936 items in total—in search of comfort and support.
What started as an exercise in grief quickly grew into an active investigation: Did her father's writings contain the answers to the question of how to move forward in life and work without her biggest champion by her side? How could she fill the space left behind by a man who had come to embody journalistic integrity, rigor, and hard reporting, whose mentorship meant everything not just to her but to the many who served alongside him?
All That You Leave Behind is a poignant coming-of-age story that offers a raw and honest glimpse into the multilayered relationship between a daughter and a father. Through this lens, Erin comes to understand her own workplace missteps, existential crises, and relationship fails. While daughter and father bond over their mutual addictions and challenges with sobriety, it is their powerful sense of work and family that comes to ultimately define them.
---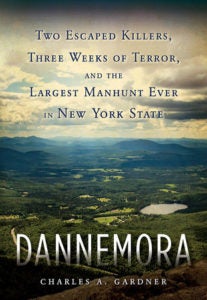 For True-Crime Book Clubs:
Dannemora: Two Escaped Killers, Three Weeks of Terror, and the Largest Manhunt Ever in New York State by Charles A. Gardner
A riveting true crime book that provides newsworthy new details about the notorious 2015 escape from Clinton Correctional Facility in northern New York state by convicted killers David Sweat and Richard Matt; their lives and crimes; and the massive law-enforcement effort that ended with Matt dead and Sweat again behind bars.
In June 2015, two vicious convicted murderers broke out of the Clinton Correctional Facility in Dannemora, in New York's North Country, launching the most extensive manhunt in state history. Aided by prison employee Joyce Mitchell, double murderer Richard Matt and cop-killer David Sweat slipped out of their cells, followed a network of tunnels and pipes under the thirty-foot prison wall, and climbed out of a manhole to freedom.
For three weeks, the residents of local communities were virtual prisoners in their own homes as law enforcement from across the nation swept the rural wilderness near the Canadian border. The manhunt made front-page headlines—as did the prison sex scandal involving both inmates and Joyce Mitchell—and culminated in a dramatic and bloody standoff.
Now Charles A. Gardner—a lifelong resident of the community and a former correction officer who began his training at Clinton and ultimately oversaw the training of staff in twelve prisons, including Clinton—tells the whole story from an insider's point of view.
Look Inside to Read an Excerpt.
Click to Watch the Trailer for the Showtime Series.
---