Reader discretion advised.
8 hot and steamy romance novels you might not want to read in public.
---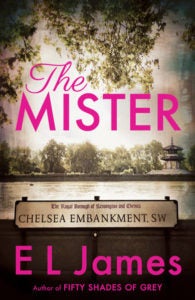 The Mister by E L James
The passionate new romance from E L James, author of the #1 bestselling Fifty Shades Trilogy.
London, 2019. Life has been easy for Maxim Trevelyan. With his good looks, aristocratic connections, and money, he's never had to work and he's rarely slept alone. But all that changes when tragedy strikes and Maxim inherits his family's noble title, wealth, and estates, and all the responsibility that entails. It's a role he's not prepared for and one that he struggles to face.
But his biggest challenge is fighting his desire for an unexpected, enigmatic young woman who's recently arrived in England, possessing little more than a dangerous and troublesome past.  Reticent, beautiful, and musically gifted, she's an alluring mystery, and Maxim's longing for her deepens into a passion that he's never experienced and dares not name. Just who is Alessia Demachi? Can Maxim protect her from the malevolence that threatens her? And what will she do when she learns that he's been hiding secrets of his own?
Click to Read an Excerpt and Watch an Interview with E L James on the Today show.
Meet E L James on Her US Tour.
---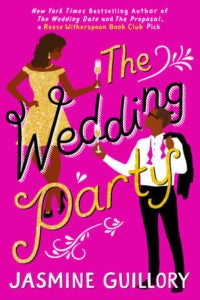 The Wedding Party by Jasmine Guillory
The new exhilarating romance from the New York Times bestselling author of The Proposal, a Reese Witherspoon x Hello Sunshine Book Club Pick.
 Maddie and Theo have two things in common:
Alexa is their best friend
They hate each other
After an "oops, we made a mistake" night together, neither one can stop thinking about the other. With Alexa's wedding rapidly approaching, Maddie and Theo both share bridal party responsibilities that require more interaction with each other than they're comfortable with. Underneath the sharp barbs they toss at each other is a simmering attraction that won't fade. It builds until they find themselves sneaking off together to release some tension when Alexa isn't looking, agreeing they would end it once the wedding is over. When it's suddenly pushed up and they only have a few months left of secret rendezvouses, they find themselves regretting that the end is near. Two people this different can't possibly have a connection other than the purely physical, right?
But as with any engagement with a nemesis, there are unspoken rules that must be abided by. First and foremost, don't fall in love.
Coming in July!
Listen to Jasmine Guillory Discussing Romantic Comedies and Meet-Cutes on the Beaks and Geeks Podcast.
---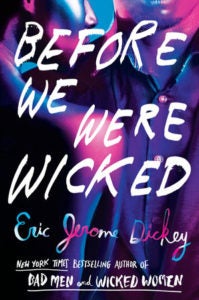 Before We Were Wicked by Eric Jerome Dickey
New York Times bestselling author Eric Jerome Dickey reveals how one chance meeting can change everything in this engrossing, sexy tale of star-crossed lust.
 They say the love of money is the root of all evil, but for Ken Swift, it's the love of a woman.
Ken is twenty-one, hurting people for cash to try to pay his way through college, when he lays eyes on Jimi Lee, the woman who will change the course of his entire life. What's meant to be a one-night stand with the Harvard-bound beauty turns into an explosion of sexual chemistry that neither can quit. And when Jimi Lee becomes pregnant, their two very different worlds collide in ways they never could have anticipated.
Click to Read an Excerpt.SEE LESS
---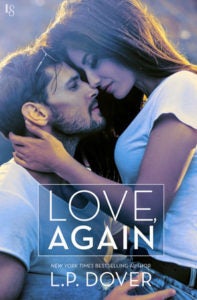 Love, Again by L.P. Dover
"L. P. Dover knows how to create the men who make us swoon, the book boyfriends we all want."—New York Times bestselling author Heidi McLaughlin
A successful Hollywood director, Aubrey doesn't have time to linger on what could have been. But when a routine blood test comes back with a false positive, she decides to take some time off to do the things she's always wanted to do. But after Aubrey admits to herself what she's really missing, she heads back home to Dusty Valley, Oklahoma . . . and the man she left behind.
Cole Haywood is a small-town fireman and that's just fine with him. Sure, when the love of his life left their hometown to chase her dreams he was heartbroken and—he'll admit—damn mad. But Cole would have never forgiven himself if he had held Aubrey back from success. So the last thing he expects after all these years is to walk into his favorite bar one night and find the girl he's always loved—there—looking for him. Maybe now's the time to make his dreams come true.
---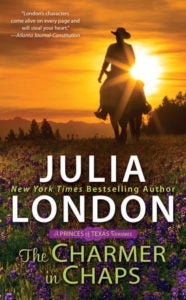 The Charmer in Chaps by Julia London
A Texas Prince Meets His Match…
Cimarron County knows the youngest son of the fabled Prince family as a womanizing hell-raiser, but Luca has changed and he intends to prove it. There's just one problem—a woman with sparkling eyes and more fight than a barnyard cat.
After a childhood of living in foster homes, Ella Kendall has exactly three things to her name: A dog, a pig, and the rundown house she just inherited. Luca may not remember her from high school, but she definitely remembers him. He is as seductive as he was then, but Ella isn't about to fall for his flirting. She recognizes a playboy cowboy when she sees one.
Luca knows Ella has learned the hard way to trust no one but herself. Yet the closer he gets to Ella, the more he wants to be the only one she leans on. Because Ella is the only woman for him, and he wants to be the man who finally gives her the home she truly deserves.
---
Unsuitable by Lavinia Kent
Cougar . . . MILF . . . Mrs. Robinson.
Jordan Robinson knows firsthand that when a woman marries a rich older man, people are going to talk. But now, with her husband gone, Jordan lives a quiet life of seclusion, managing her charities and staying away from the limelight. Then everything changes after an unexpected kiss leads to the best sex of her life—and a secret affair Jordan never wants to end.
A sexy young mogul who's used to getting what he wants, Clay has wanted Jordan Robinson ever since he was seventeen and saw her emerge dripping from a swimming pool in a white bikini. But now he's all grown up . . . and now she's his. But when their relationship is exposed, the fallout is devastating. Yet Clay's a man in his prime—and Jordan's a woman worth fighting for. They may have started as a fling, but Jordan Robinson belongs in his bed, in his life . . . and forever in his heart.
---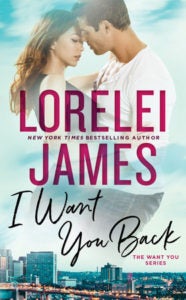 I Want You Back by Lorelei James
New York Times bestselling author Lorelei James kicks-off her Want You Series with a Lund family cousin hot enough to melt the ice and mend a broken heart.
Former NHL star Jaxson Lund has returned to the Twin Cities, but he's at loose ends, unsure if he belongs at Lund Industries, or where he stands with Lucy, his ex-girlfriend and mother of his daughter, Mimi. Despite the signs she'd like to leave him in the penalty box, the attraction burning between them reinforces his determination to prove that he deserves a second chance.
Lucy Quade is in a good place with a steady job, a nice apartment, and a well-adjusted daughter, which is why she's hesitant when Jax insists on co-parenting. It's not that Lucy doesn't trust Jax . . . she's just unconvinced he can handle multiple responsibilities when he's been singularly focused on playing hockey. But when issues arise with Mimi, Lucy's shocked at how levelheaded and paternal he acts, giving her a glimpse of the Jax she used to know, the sexy, sweet man she fell for years ago.
Once Lucy lets her guard down, Jax goes all in to show her how good they are together, but will their past remain too large an obstacle to ever overcome?
---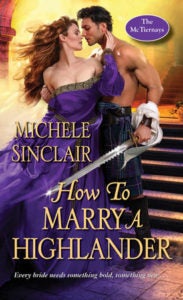 How to Marry a Highlander by Michele Sinclair
Award-winning author Michele Sinclair returns to the world of the medieval Scottish Highlands with an intriguing tale about a battle-hardened soldier who is bound to the McTiernay brothers by a loyalty as strong as blood. But no woman in all of Scotland has been able to lay claim to his heart.
A commander in the McTiernay clan, Dugan is known far and wide for his skills with a sword—and his skills in seduction. His rugged countenance and arrogant swagger are a lethal combination for the women who try to tame him and fail. Until a mysterious firebrand tempts him with her wicked ways.
 
All Adanel Mackbaythe knows about her Highland lover is that he is a McTiernay soldier—and a means of escaping her cruel father. But Dugan is a not a man to be toyed with. His distrust of Adanel's motives will put a distance between them that can't be breached. Yet when their secret trysts are discovered—sparking a war between clans—a lust for vengeance will drive Dugan back into her arms, where he will embark on his greatest battle: for her heart . . .