This Earth Day, help your patrons learn about the environment and why we need to protect it with these books.
Mercy For Animals: One Man's Quest to Inspire Compassion, and Improve the Lives of Farm Animals
by Nathan Runkle, Gene Stone
A compelling look at animal welfare and factory farming in the United States from Mercy For Animals, the leading international force in preventing cruelty to farmed animals and promoting compassionate food choices and policies.
Quakeland: On the Road to America's Next Devastating Earthquake
by Kathryn Miles
A journey around the US in search of the truth about the threat of earthquakes leads to spine-tingling discoveries, unnerving experts, and ultimately the kind of preparations that will actually help guide us through disasters. It's a road trip full of surprises.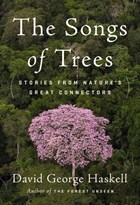 The Songs of Trees: Stories from Nature's Great Connectors
by David George Haskell
The author of the The Pulitzer Prize finalist The Forest Unseen visits with nature's most magnificent networkers—trees.
Rants from the Hill: On Packrats, Bobcats, Wildfires, Curmudgeons, a Drunken Mary Kay Lady, and Other Encounters with the Wild in the High Desert  
by Michael P. Branch
Tales of life in the high desert from the author of Raising Wild.
*Enter a giveaway for an advance copy of Rants from the Hill. Find the post on @roostbooks Instagram and tag a friend who cares about the environment (and likes a hilarious read!).