We'd like to congratulate Kevin Young on his BCALA's Best Poetry Award, Books of Hours: Poems, (Knopf) and Cynthia Bond for her fiction Honor Book, Ruby: A Novel (Crown Publishing) as well as all of the winners of this year's Black Caucus of the American Library Association Literary Awards, it is such a great honor to be a part of this prestigious list of titles.
Click here to see the complete list.
ABOUT THE AWARD
First presented at the Second National Conference of African American Librarians in 1994, the BCALA Literary Awards acknowledge outstanding works of fiction and nonfiction for adult audiences by African American authors. Recipients of this award offer outstanding depictions of the cultural, historical or sociopolitical aspects of the Black Diaspora and embody the highest quality of writing style and research methodology, if applicable.
CELEBRATE BLACK HISTORY MONTH WITH DR. CORNEL WEST:
In order to help you further celebrate Black History Month in your library, we are going to be raffling off a signed copy of The Radical King.
The Radical King arranged and introduced by Dr. Cornel West, illustrates Dr. Martin Luther King's revolutionary vision, underscoring his identification with the poor, his unapologetic opposition to the Vietnam War, and his crusade against global imperialism. As West writes, "Although much of America did not know the radical King—and too few know today—the FBI and US government did. They called him 'the most dangerous man in America.'…This book unearths a radical King that we can no longer sanitize."
Last month we were honored to have Dr. King as a guest speaker during the ALA Midwinter conference in Chicago where he was gracious enough to sign copies of his book for over two hours! We If you were unable to attend ALA Midwinter, we did save one signed copy and we will be raffling it off to a lucky winner.  All you have to do is  email us at Library@RandomHouse.com for your chance to win.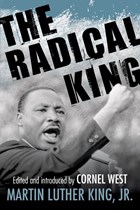 Good luck! And, as always, we'd love to hear how your library celebrates Black History Month, tell us Library@RandomHouse.com.
Check out these current titles perfect for Black History Month!