I've always said that the Olympics should be aired around New Years. By the time they come around in August, they're just a painful reminder of the physical-fitness resolutions we've made, and how, compared to these people, we've failed miserably. For me, it's back to the drawing board…er, weight room/treadmill. We have some books, though, that can help those who feel similarly.
 NATURAL FLEXIBILITY– Charles Kenny, M.D. – If Shawn Johnson and Nastia Liukin make you feel about as flexible as a dry twig, you're not alone. But stretching, surprisingly enough, is not the only way to get there. This book will teach your patrons how to enhance their muscle function and performance through natural exercise.
THE BODY SCULPTING BIBLE FOR ABS– Hatherleigh – Olympic swimmers. Perhaps the tightest abdominals you'll find outside of a Mr. Universe competition. In case your patrons feel inspired, be sure to have these-the men's and women's editions-around. More than a lap pool, they'll need some kind of guidance.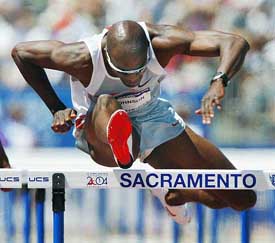 STABILITY, SPORT AND PERFORMANCE MOVEMENT-Joanne Elphinston – Physiotherapist Joanne Elphinston explains that sporting technique is rooted in stability, symmetry, and balance. Just about any Olympic athlete wouldn't have gotten far without these skills. But the large injury-prevention portion unfortunately does not account for book-cart accidents.
LIVING WITH CHRONIC PAIN– Jennifer Schneider, MD, PhD – This book, coming in April 2009, will be around just in time. By then, your patrons will have given up their Olympic dreams (or at least their dreams of looking like a silver medalist), and will have a new problem. This comprehensive and authoritative volume will be indespensible for a smooth convalesence.